Lady Chatterley's Lover
Tuesday, November 15, 2022 / 7:00 PM - 9:50 PM (PST)
Screening Format: Sony digital projection (2 hours, 6 minutes)
With Elizabeth Gabler and Marisa Paiva (3000 Pictures)
Starring: Emma Corrin, Jack O'Connell, Joely Richardson

Directed by Laure de Clermont-Tonnerre, the 2022 adaptation of D. H. Lawrence's classic novel stars Emma Corrin as Lady Constance Chatterley, whose happy marriage to Sir Clifford Chatterley (Matthew Duckett) turns sour when he returns wounded and scarred from World War I. No longer able to walk, Clifford treats his wife as a nursemaid. For a while, Constance's only companion is housekeeper Mrs. Bolton (Joely Richardson), but things change when she meets Oliver Mellors (Jack O'Connell), the new gamekeeper for the couple's English estate. Soon, Constance and Oliver's meetings become passionate trysts. Lady Chatterley's Lover is a celebrated story of isolation and intimacy, brought to fresh life in this absorbing new adaptation.
Elizabeth Gabler (President, 3000 Pictures) and Marisa Paiva (Executive Vice President, 3000 Pictures) joined Carsey-Wolf Center Associate Director Emily Zinn for a post-screening discussion of Lady Chatterley's Lover and the process of adapting literature for the screen.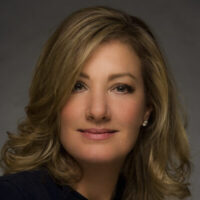 Elizabeth Gabler (3000 Pictures)
Elizabeth Gabler is President of 3000 Pictures, a multimedia division at Sony Pictures Entertainment that focuses primarily on adaptations of literary fiction and non-fiction for theatrical feature films, television, and streaming services. The first film released for 3000 Pictures was the Sony Pictures Entertainment adaptation of the publishing phenomenon Where the Crawdads Sing by Delia Owens, released in theaters worldwide in July 2022.
A graduate of UC Santa Barbara with a degree in English Literature, Gabler began her career at International Creative Management as an assistant in the Motion Picture Department, eventually becoming a literary agent. She began her studio career at Columbia Pictures as a Creative Executive, then moved to United Artists as a Vice President of Production, where she oversaw the development and production of Rain Man, winner of four Academy Awards, including Best Picture. She later joined Twentieth Century Fox in 1988 as a Senior Vice President. Some of the highlights of her tenure in the main production division were Mrs. Doubtfire, Waiting to Exhale, and Castaway.
In November of 1999, Gabler became President of Fox 2000 Pictures, a division of Twentieth Century Fox. The division shepherded such films as Unfaithful, Walk the Line, The Devil Wears Prada, Man on Fire, Marley & Me, Bridge of Spies, The Fault in Our Stars, The Hate U Give, Academy Award-nominated Hidden Figures, and Life of Pi, the winner of four Academy Awards, including Best Director for Ang Lee. Gabler currently serves on the Dean's Council at NYU/Gallatin, the Foundation Board of Trustees of UCSB, the Advisory Board of the Carsey-Wolf Center at UCSB, the Advisory Board of the Storyteller Organization, a daycare center for homeless and economically-challenged families in the Central Coast, as well as the Lollipop Theater Group, an organization that brings films to hospitals for children dealing with life-threatening diseases.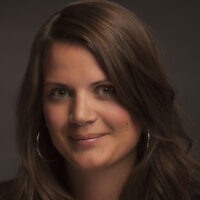 Marisa Paiva (3000 Pictures)
Marisa Paiva joined Fox 2000 Pictures in 2006, after beginning work at the company as an intern. Over thirteen years at the company, she worked on such literary adaptations as Ramona and Beezus, Water for Elephants, The Book Thief, and the acclaimed hit Life of Pi directed by Ang Lee, which went on to win four Academy Awards. Marisa oversaw the production of Hidden Figures, which was later nominated for the Academy Award for Best Picture. As an Executive Vice President, she oversaw the film Breakthrough with Chrissy Metz, as well as the Netflix adaptation of the best-selling book, The Woman in the Window.
After joining Elizabeth Gabler at 3000 Pictures in August of 2019, Marisa has spearheaded many high-profile acquisitions for both film and television. The first was debut author Abigail Dean's best-selling novel Girl A, which Emmy winner Johan Renck will direct for Netflix as a limited series. She is also working on Don Winslow's City on Fire, the first book in a highly anticipated trilogy from the acclaimed author. She is also currently working on the Sublime biopic spearheaded by director Francis Lawrence. Marisa will also reunite with director Ang Lee to tell the story of Bruce Lee, the martial arts superstar. As an ambassador for the Simon Society within Save the Children, Marisa is an advocate for early childhood education and literacy. Recent accomplishments include becoming a Notary Public (will travel), and learning how to play the banjo, if only to become one step closer to her idol Dolly Parton.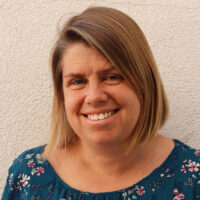 Moderator Emily Zinn (Carsey-Wolf Center)
Emily Zinn is the Associate Director of the Carsey-Wolf Center. She earned her PhD from the University of Pennsylvania in English Literature, with an emphasis in Gender and Sexuality Studies. Her research interests include contemporary British and American literature, the role of food in literature, and fairy tales. Previous events she has moderated for the Carsey-Wolf Center include discussions of Knock Down the House, The Handmaid's Tale, and Deadwood. 
This event is sponsored by the Carsey-Wolf Center.