TV at the Pollock: Deadwood
Tuesday, February 18, 2020 / 7:00 PM - 9:00 PM (PST)
Screening Format: Blu-Ray (62 Minutes)
With Robin Weigert (actress)
Starring: Timothy Olyphant, Ian McShane, Molly Parker, Robin Weigert

When the richest gold strike in U.S. history thrusts South Dakota's Black Hills into the center of the nation's get-rich-quick dreams, a throng of restless misfits converge on the outlaw town of Deadwood. Created by David Milch, the critically-acclaimed series ran for three seasons, and featured a talented ensemble cast playing the town's colorful inhabitants, many of them based on historical figures. The Carsey-Wolf Center is delighted to welcome actress Robin Weigert, who played Calamity Jane in the series, for a screening of Deadwood season 1, episode 2 "Deep Water." This episode takes place in the aftermath of a massacre, as suspicions arise about its true perpetrators. Local kingpin and saloon-keeper Al Swearengen (Ian McShane) takes a special interest in the health of its sole survivor, a young girl being tended by the unlikely team of Doc Cochran (Brad Dourif) and Calamity Jane (Robin Weigert).
Actress Robin Weigert joined moderator Emily Zinn for a post-screening discussion of the series and the episode.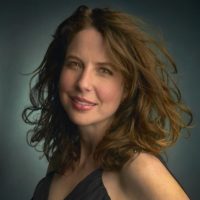 Actress Robin Weigert
Robin Weigert is an Emmy-nominated actress, whose roles include Calamity Jane in Deadwood, Dr. Amanda Reisman in both seasons of Big Little Lies, and Ally Lowen in Sons of Anarchy. Film credits include lead roles in Sundance favorites Concussion and Take Me to the River, along with a list of supporting roles in films like Bombshell, Mississippi Grind, Pawn Sacrifice, The Sessions, Synecdoche, NY, and The Good German. She has played a wide range of roles on television shows including Castle Rock, Dietland, American Horror Story, Jessica Jones, Fearless, and Angels in America.
Robin's eclectic career began in the theatre. After receiving Drama Desk and Lucille Lortel award nominations for her comedic turn in Richard Nelson's play Madame Melville, Robin was cast in Noises Off on Broadway and Mike Nichols' The Seagull in Central Park.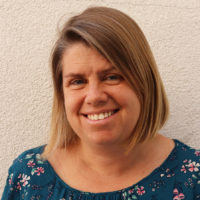 Moderator Emily Zinn
Emily Zinn is the Associate Director of the Carsey-Wolf Center. She earned her PhD from the University of Pennsylvania in English Literature, with an emphasis in Gender and Sexuality Studies. Her research interests include contemporary British and American literature, the role of food in literature, and fairy tales. She currently serves as a lecturer in UCSB's English department, and she previously taught at Yale University and the Curtis Institute of Music.
This event is sponsored by the Carsey-Wolf Center.

TV at the Pollock
In winter 2020, the Carsey-Wolf Center will honor the legacy of its founding sponsors Marcy Carsey and Dick Wolf, whose work reshaped the modern television landscape. Our series celebrates some of the best in classic and contemporary shows. "TV at the Pollock" explores the evolution of television as a compelling storytelling medium, a vehicle for complex political expression, and a rapidly-changing media technology. Ranging from the traditional sitcom to recent dystopian drama, the series pulls great television out of the living room, onto the big screen, and into a communal conversation.