The Last Brown Beret
Tuesday, May 9, 2023 / 7:00 PM - 9:20 PM (PDT)
Screening Format: Sony 2K digital projection (103 minutes)
With Director Del Zamora
Based on a popular play by Alfredo Ramos, The Last Brown Beret follows a group of 1960s East LA activists as they reunite for a funeral for one of their former comrades. At the afterparty, one of the old "brown berets" gathers the others in the garage where they used to meet as young revolutionaries. Together, they attempt to come to terms with what they achieved for their communities, and what was left undone. Written, directed, and produced by acclaimed actor Del Zamora, the film is a rollercoaster ride of emotions, full of love for the Chicanx people and their history of advocacy.
Writer/director/producer Del Zamora joined Ben Olguín (English, UCSB) for a post screening discussion of The Last Brown Beret.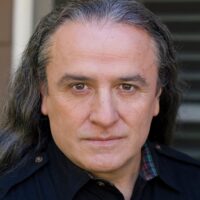 Director Del Zamora
Del Zamora is half Mescalero Apache, half Chicano, from New Mexico. He has been actively working in the motion picture industry for 42 years. He attended UCLA on a full academic scholarship, where he studied directing and writing for motion pictures. Del has appeared in over 277 speaking roles in his career. His most notable credits include Robocop, Born In East LA, Repo Man, True Blood, The George Lopez Show, NYPD Blue, Tosh.0, Murphy Brown, The X-Files, and Hill Street Blues. The Last Brown Beret is Del's feature film debut as producer, writer, and director.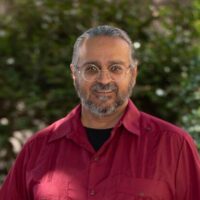 Moderator Ben Olguín (English, UCSB)
Ben Olguín is the Robert and Liisa Erickson Presidential Chair in English, and the Director of the Global Latinidades Project, in the English Department at UCSB. Olguín's interdisciplinary areas of expertise include Chicanx and Latinx literary and cultural studies, critical race and ethnic studies, American and Latin American studies, postcolonial studies, speculative literature and film, human rights theory and praxis, Marxist and materialist theories, medical humanities, and creative writing.
This event is sponsored by the Carsey-Wolf Center and the Global Latinidades Project.