The Carsey-Wolf Center's Impact Media Internship Program equips undergraduate students with the production skills they need to effectively support humanitarian and environmental organizations as media interns. Through this exciting program, students will support local organizations by helping them to tell compelling, timely stories about their work. The program will provide students with an invaluable opportunity to gain real-world media production experience.
Student participants who are selected for the program will enroll in FMS 109EA "Impact Media," a 4-unit spring term Film and Media Studies course. The aim of the course is to give students the multi-platform storytelling skills and impact strategies needed to create professional media that influence behavior, drive innovation and promote positive change within communities. Students who participate in the program will have the opportunity to apply for scholarship support for their living expenses while they work in unpaid internships in summer or fall, either in the Santa Barbara area or in their local communities. The Carsey-Wolf Center will provide internship placement assistance to students in the program.
Past internship partners include Geocomb Homes, Girls Inc., Healing Justice Santa Barbara, Humanities Behind Bars, Isla Vista Youth Projects, Leading from Within, Naturetrack Film Festival, PFLAG, the Santa Barbara Bucket Brigade, Santa Barbara Family Services Agency, Santa Barbara Food Bank, Santa Barbara Museum of Natural History, the United Way of Santa Barbara, White Buffalo Land Trust, and Wilderness Youth Project.
The Impact Media Internship Program is open to undergraduate students from all majors by application only. No prior production experience is required.
This program is generously funded by Mike and Diane Christian, the managing director and founder of Someone Else's Child Foundation.
Spring term 2024
Instructor:
Ian Kellett
FMS 109EA

Class times TBA
Application deadline: Thursday, February 15, 2024.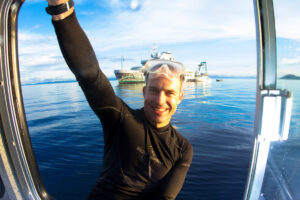 Ian Kellett is an accomplished field producer, cinematographer, storyteller and performer. Working with National Geographic, BBC, WoodsHole Oceanographic Institution and Ocean X,  Ian produced dozens of expeditions connecting media to innovative ocean solutions.
Ian enthusiastically explores new media-landscapes and is endlessly curious about designing innovative outreach strategies.   As a director of photography he lensed award winning films including National Geographic's Defender of the Wild and several globally distributed TV series including Pacific Abyss and Oceans.  His lifelong passion is to create transformative experiences and stories that support thriving stewardship of aquatic systems. Ask him about building an editing studio inside a mobile shipping container and the challenges of project managing the design and build of the most advanced deep sea cinematography cameras in the world. An enthusiastic advocate for environmental science and emotional storytelling, Ian has an abiding curiosity for innovative distribution and emergent media technologies. He is a passionate teacher who loves to explore the psychology of influence and how to attune audiences to the natural world.
Admission process:
The program is open to students in all majors, and admission is by permission of the instructors. Students must complete this admissions form by Wednesday, February 15, 2023 for primary consideration.  Students will be notified of their admission status by Thursday, February 23.  After that date, any remaining spots in the program will be filled on a rolling basis.