CWC TV: Our Flag Means Death
Saturday, May 20, 2023 / 2:00 PM - 4:00 PM (PDT)
Screening Format: Sony 2K digital projection
With Eliza Jiménez Cossio (writer)
Starring: Rhys Darby, Taika Waititi, Kristian Nairn, Joel Fry

Created by David Jenkins and Taika Waititi, Our Flag Means Death is a loose adaptation of the true adventures of aristocrat turned would-be pirate Stede Bonnet (Rhys Darby). The series follows Bonnet and his eccentric crew as they sail the high seas in search of adventure and treasure in the early eighteenth century. As the fresh-faced captain of the pirate ship Revenge, Bonnet struggles to earn the respect and loyalty of his potentially mutinous crew, but his fortunes change upon a fateful encounter with the notorious Captain Blackbeard (Waititi), who becomes his mentor and confidant. Their relationship sets the stage for their thrilling and unpredictable journey as Stede and his crew navigate the unexpected dangers of pirate life and confront their own pasts. With sharp writing and a memorable ensemble cast, Our Flag Means Death will win fans of irreverent humor, historical fiction, and swashbuckling adventure.
This event featured a screening of the pilot episode of Our Flag Means Death and episode 4, "Discomfort in a Married State." Writer Eliza Jiménez Cossio joined Chip Badley (English, UC Davis) for a post-screening discussion of the series.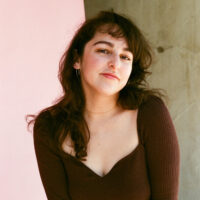 Writer Eliza Jiménez Cossio
Eliza Jiménez Cossio is an actress and writer from California. She has written on This Fool (Hulu), Our Flag Means Death (HBO Max), One Day At A Time (Netflix/Pop TV), and Wyatt Cenac's Problem Areas (HBO). After graduating from UC Berkeley, she moved to New York to intern at The Daily Show with Jon Stewart, where she worked her way up to digital writer and the on-air Senior Latina Correspondent. Her Sex and the City/Sopranos crossover script went viral on Twitter and was featured in NY Magazine/Vulture, AV Club, and Slate Magazine. She wrote, co-directed, and acted in the award winning short film La Bruja as well as her latest short film We Should Get Dinner!, which premiered at SXSW 2022.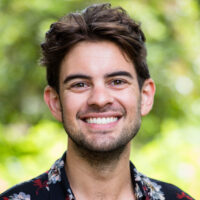 Moderator Chip Badley
Chip Badley is a Lecturer in the English department at the University of California, Davis. A former managing editor of Camera Obscura: Feminism, Culture, and Media Studies, he is at work on a book concerning aesthetics and sexuality in American literature. His writing is forthcoming or has appeared in Early American Literature, Eighteenth-Century Life, the Henry James Review, and J19: The Journal of Nineteenth-Century Americanists.
This event is sponsored by the Carsey-Wolf Center.
CWC TV
In recognition of the extraordinary accomplishments of the Center's namesakes, Dick Wolf and Marcy Carsey, the Carsey-Wolf Center is committed to examining television as an institution, industry, and cultural form. In our post-network, multi-channel, multi-media environment, understanding television demands understanding its past as well as its future, through exploration of individual episodes, mini-series, and documentaries.