UCSB Script to Screen, hosted by Matt Ryan, was invited to the 2016 Comic Con Convention. We got amazing interviews from today's top talent.
The Good Place
Ted Danson (Actor), Michael Schur (Executive Producer/Creator), Drew Goddard (Director), Kristen Bell (Actress)
The Man in the High Castle
Alexa Davalos (Actress), Isa Dick Hackett (Producer), Rupert Evans (Actor), DJ Qualls (Actor), Rufus Sewell  (Actor), Bella Heathcote (Actress), Luke Kleintank (Actor)
The Exorcist
Jeremy Slater (Executive Producer/Writer), Ben Daniels (Actor), Brianne Howey  (Actress), Hannah Kalsuka (Actress), Geena Davis (Actress)
Blancbiehn Productions
Michael Biehn (Actor- Aliens, Terminator), Jennifer Blanc-Biehn (Director, Producer)
The Simpsons
Nancy Cartwright (Voice Actress)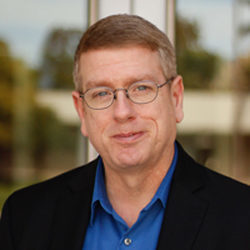 Matthew Ryan, Pollock Theater Director
Matthew Ryan is Director of the Pollock Theater where he pioneered the Pollock Theater Internship, which professionalizes students by developing production skills with hands-on experience. Ryan created and hosts the Script to Screen series, which has welcomed prestigious guests like Oscar® winning screenwriter John Ridley for 12 Years a Slave and Oscar® winning screenwriter Alan Ball for American Beauty.
Matthew Ryan began his career as a video librarian at the legendary Kaufman Astoria Studios. He became Associate Producer for Fox Movietone Newsreels putting together video packages for news stories. As Events Manager at New York University's Cantor Film Center, he produced a series of film programs that included evenings with Martin Scorsese, Tim Robbins and Alec Baldwin. In 2008, he received an MFA in Screenwriting from Loyola Marymount University. His primary writing focus is science fiction and comedy.
UCSB Script to Screen is sponsored by the department of Film and Media Studies, The Carsey-Wolf Center, and The Scott Frank Fund for Screenwriting. It is hosted and executive-produced by the Pollock Theater Director, Matt Ryan, and produced by the Pollock Theater student staff.