The Coastal Media Project 2022 student film premiere
Friday, August 19, 2022 / 7:00 PM - 9:00 PM (PDT)
The Carsey-Wolf Center's Coastal Media Project is a new nine-week intensive environmental media production and documentary studies program. Students from a wide variety of backgrounds have worked in teams to produce the short films that are premiering this evening. This program aims to expand the ways that we tell vital stories about the coastal environment. For more information about the Coastal Media Project, please visit this page.
This event featured screenings of four short films: "High Tide," "Growing a Delicacy," "Beyond Access," and "Whale-Roads."
photo credit: Alex Nye
High Tide
Meet Cliff Kent, a familiar face down at the Santa Barbara Harbor for the past 50 years. He is a commercial gillnet fisherman, family man, and Santa Barbara native. The film tells the harrowing story of Cliff Kent, Michael Caligiuri, and Joseph Breck and their fateful night off the coast of Santa Cruz Island.
Crew: Drew Rasmus, Kuba Naum, Malakai Isaacs, Skylar Bowyer & Valentina Jimenez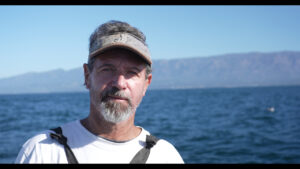 Growing a Delicacy
Growing a Delicacy is a film following the local aquaculture pioneer Cultured Abalone as they work to restore the lost delicacy of the red abalone. After commercial and sports diving for the species was banned because of overfishing and population decline, it left many people and cultures lacking access to an essential part of their lives. Adelaide and her film crew follow and immerse themselves in the journey from spawn to spoon of this unique species and process.
Crew: Adelaide McGinnis, Ethan Stauber, Nick Thomas & Quinn Cantarutti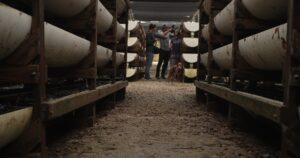 Beyond Access
Beyond Access takes us on a journey with young Afro-Latina ocean explorer and storyteller Xochitl Clare on her quest to champion equal access to the great outdoors. The film centers on her discussions with the next generation of leaders and practitioners who are diversifying outdoor spaces. It also highlights the importance of allyship in ensuring that underserved and historically marginalized youth and families are able rebuild a sense of belonging in nature.
Crew: Dara-Marie Raggay, Owen Vandevelde, Wes Addington & Xochitl Clare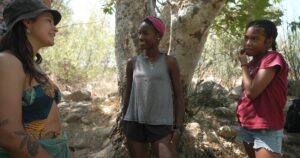 Whale-Roads
At first glance, Whale-Roads is about what goes on beneath the surface, but it is just as much a comment on what occurs every day on land. By exploring the intersection between commercialization and marine protection, Whale-Roads provides insight into a past where humans have exploited whales for profit, as well as offers hope for a future in which whales and humans can coexist peacefully.
Crew: Emma Holm-Olsen, Ethan Takekawa, Michael Lee & Meg Kievman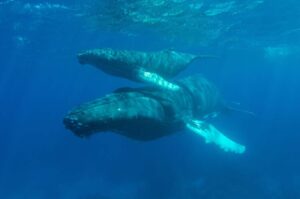 The Coastal Media Project is grateful to the following individuals for their support of this program:
Kum-Kum Bhavnani, Kristi Birney, Alenda Chang, Myles Connolly, Mona Damluji, John Ellerbrock, Mike Folgner, Brian Guerrero, Melody Jue, Kathy Kasic, Liza Kraff, Chimaway Lopez, Mia Lopez, Mark Manning, Constance Penley, David Port, Dr. Jay Reti, Joey Szalkiewicz, Kylie Rae Van De Wyngaerde, Paul Warkentin, and Charles Zablan.
Many thanks to the following partners and supporters:
the Benioff Ocean Initiative, Canon Cameras, Gates Underwater Housings, Ocean X, Rancho Vista del Mundo, Scenery, the UCSB Associated Students Coastal Fund, and the UCSB Department of Film and Media Studies.