M+E+ (the official blog of Media+Environment)
---
NEW – Metabolic Riffs podcast series
---
In the face of ecological devastation globally, and the rise of the authoritarianism that often catalyses ecological collapse, Metabolic Riffs, a podcast series, attempts to both unearth and reanimate the Earth that we inhabit. Our conversations engage with the environmental humanities, media and mediation, and public policy and politics. These interviews center around a speaker, their body of work, and concerns they might have to offer to the humanities largely. We go beyond the conventional rubric of academic scholarship and speak to activists, artists and campaigners alike, and engage in their critical practice around environmental justice, decolonial thinking, and community engagement. Metabolic Riffs is supported by the University of California Press' Media + Environment journal and the Carsey-Wolf Center at University of California, Santa Barbara.
Episode 1: The Ocean Humanities and Wild Blue Media with Melody Jue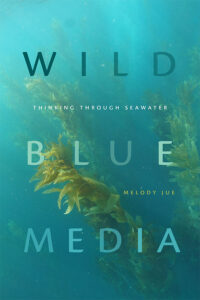 Melody Jue is an associate professor in the English Department at the University of California, Santa Barbara. A diver by interest, her latest book, Wild Blue Media (Duke University Press, 2020), submerges its readers into the ocean, asking us how might being in the deep water produce a shift from our habitual land-based subjectivities. It is here that the ocean itself emerges as a media environment, a place where light and dark, weight and pressure of the seawater, transforms how environments and information are created, transmitted and perceived. In this episode, we ask her about Wild Blue Media, her forthcoming book, Saturation: An Elemental Politics (Co-edited with Rafico Ruiz, Duke University Press), questions of mediations and metaphors, pre-activism, and what might lay ahead of us in the Blue New Deal.
After the interview, we are joined by Maxximilian Seijo, PhD student at the program of Comparative Literature at UCSB, for a quick reflection on Melody's work, her spring 2020 graduate seminar, "Metabolic Science Fiction," and the concept of metabolism broadly.
Interview recorded on 28 October 2019. Published on 13 September 2020.
About the Metabolic Riffs Team 
Metabolic Riffs is co-hosted by Richard Farrell and Pujita Guha, both second year Ph.D scholars at the Film and Media Department at UCSB. Richard Farrell completed his Masters at the University of South Florida prior to his time at UCSB, and works at the intersection of environmental media, heterodox political economy and documentary studies. Pujita Guha has completed her Masters and MPhil from Jawaharlal Nehru University, New Delhi and works at the intersection of environmental media, south and southeast asian studies, and contemporary media and art.
+-+-+-+
Call for Reviewers
The new UC Press online, open access journal Media+Environment invites interested scholars to submit proposals for book and media reviews for possible inclusion on our journal's official blog hosted by the Carsey-Wolf Center.
A preliminary list of mostly books is included below, but we are very open to other suggestions (such as films, games, and exhibitions) so long as there is a demonstrable connection to the journal's defining intellectual nexus of media and environment. We anticipate a review length of 1,200 – 1,500 words. Submitted reviews will be evaluated for publication by the journal's editors.
The deadline for this initial round of review submissions is March 16, 2020 but earlier submissions are welcome. If you are interested in serving as a reviewer or if you have any questions, please contact the journal's Coordinating Editor Stephen Borunda (stephenborunda@ucsb.edu). Include the title of one (or more) of the books below and your mailing address in your email. Books will be assigned and mailed on a rolling basis.
Additionally, we welcome authors of relevant books to contact us so that we might add their titles to this ever-growing list.