New Waves: This is Not a Film
Tuesday, October 15, 2019 / 7:00 PM - 9:30 PM (PDT)
Screening Format: DVD (75 Minutes)
With Hamid Naficy (Communication, Northwestern University)
Directors: Jafar Panahi and Mojtaba Mirtahmasb

In 2010, after Jafar Panahi was arrested and charged with producing propaganda against the Iranian government, he was banned from making films or operating a camera for twenty years. In 2011 he made This is Not a Film, which was shot entirely in Panahi's home, using the help of his friends, a camcorder, an iPhone, and the legal loopholes in his ban. The film debuted at Cannes after being smuggled into the festival inside a cake. With a playful charm, This is Not a Film grows from a diary of Panahi's house arrest into an indirect examination of censorship, filmmaking, and plucky resourcefulness. An eminent director of the Iranian New Wave, known for The White Balloon (1999) and The Circle (2001), Panahi turns the conditions of his arrest into one of his most personal and expressive works. This event was originally scheduled for May 2019.
Hamid Naficy (Communication, Northwestern University) joined Anna Brusutti (Film and Media Studies, UCSB) for a post-screening discussion.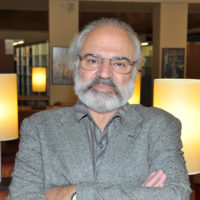 Hamid Naficy (Northwestern University)

Hamid Naficy is Professor of Radio/Television/Film and the Hamad Bin Khalifa Al-Thani Professor in Communication at Northwestern University, where he also is an affiliate faculty at the Department of Art History and is a core faculty member in the Middle East and North African Studies Program. Naficy is a leading authority in cultural studies of diaspora, exile, and postcolonial media, and of Iranian and Middle Eastern cinemas. His English language books are An Accented Cinema: Exilic and Diasporic Filmmaking; Home, Exile, Homeland: Film, Media, and the Politics of Place; The Making of Exile Cultures: Iranian Television in Los Angeles; Otherness and the Media: the Ethnography of the Imagined and the Imaged (co-edited); and Iran Media Index. His latest work is the award-winning four-volume A Social History of Iranian Cinema, published in 2011-12. He has also published extensively in Persian, including a two-volume book on documentary cinema theory and history, Film-e Mostanad. He has also produced and directed many avant-garde, educational, and documentary films.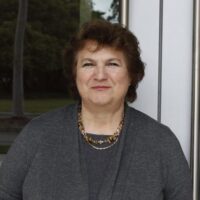 Moderator Anna Brusutti

After studying psychology, theatre, and film, Anna Brusutti worked at the Italian Cultural Institute in Los Angeles and has taught cultural studies and film at various institutions. She curates two annual film events and collaborates with cultural organizations. She has welcomed the opportunity to teach in the Film and Media Studies department and has done so for a number of years, teaching courses in Italian cinema, film noir, and children's media.
 This event is sponsored by the Carsey-Wolf Center and the Department of Film and Media Studies.
New Waves
This Carsey-Wolf Center screening series explores the international legacies of cinematic New Waves. Starting in Italy with Rome, Open City (1945), the series includes films from France, Cuba, China, and Iran. These selections highlight the New Waves' stylistic and narrative experimentation, self-conscious rejection of inherited film conventions, and exploration of contemporary social and political issues. These films capture cinema at its most vital, responding to youth cultures, changing urban landscapes, and the destructive forces of globalization and war.
CWC Docs
The Carsey-Wolf Center is committed to screening documentaries from across the world that engage with contemporary and historical issues, especially regarding social justice and environmental concerns. Documentaries allow filmmakers to address pressing issues and frame the critical debates of our time.