Storytelling for the Screen: Showing Up
Tuesday, November 7, 2023 / 7:00 PM - 9:40 PM (PST)
Screening Format: Sony 4K digital projection (107 Minutes)
With Kelly Reichardt (writer/director)
Starring: Michelle Williams, Hong Chau, André Benjamin

Directed by celebrated filmmaker Kelly Reichardt, Showing Up (2022) transforms the tensions of one make-or-break week into a nuanced portrait of creativity, art-making, and the messy task of building a life. Showing Up stars Michelle Williams as Lizzy, a Portland-based artist struggling to hold things together even as they keep falling apart. Her hot water heater is busted, her brother might be going off the rails, her divorced parents are exasperating in their own separate ways, and the free spirits at the arts college where she works sometimes prove a bit much. But out of the pressurized absurdities and tumult come not just precious moments of creative inspiration, but the jagged shape of one woman's life.
In this event, writer/director Kelly Reichardt will join moderator Alex Lilburn (Film and Media Studies, UCSB) for a post-screening discussion of Showing Up.

Tickets for this event will be available at 11:00 AM on Tuesday, October 17. This event is free but a reservation is recommended in order to guarantee a seat.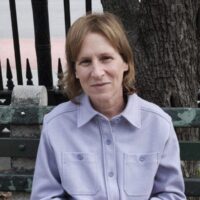 Writer/director Kelly Reichardt
Kelly Reichardt's feature films include River of Grass (1994), Old Joy (2006), Wendy and Lucy (2008), Meek's Cutoff (2010), Night Moves (2013), Certain Women (2016), First Cow (2019), and Showing Up (2022). A retrospective of her work took place at the Centre Pompidou in October 2021. Her awards and grants include a Film Independent Bonnie Award, a United States Artists Fellowship, a Guggenheim Fellowship, an Anonymous Was a Woman Award, and a RenewMedia Fellowship. Special screenings of her work have taken place at the Whitney Biennial (2012), Film Forum, Cannes Film Festival in "Un Certain Regard," Venice International Film Festival, Sundance Film Festival, Viennale Film Festival, Berlin International Film Festival, Toronto International Film Festival, International Film Festival Rotterdam, and the BFI London Film Festival. Retrospectives of her work have taken place at the Museum of Modern Art, Anthology Film Archives, Pacific Film Archive, Museum of the Moving Image, Walker Art Center, American Cinematheque Los Angeles, and European Touring Retrospective (The American Landscape: The Films of Kelly Reichardt). She is currently the S. William Senfeld Artist-in-Residence at Bard College.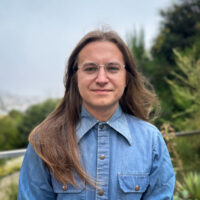 Moderator Alex Lilburn (Film and Media Studies, UCSB)
Alex Lilburn is an MA/PhD student in Film and Media Studies at the University of California, Santa Barbara. He holds a BA in the History and Theory of Contemporary Art from the San Francisco Art Institute (SFAI). At SFAI, he studied avant-garde filmmaking practices and artist-based film histories. Prior to coming to UCSB, he worked at the Sundance and Telluride Film Festivals and volunteered at Canyon Cinema in San Francisco. Currently, his research interests include global avant-garde film, media exhibition formats, and urban theory.
This event is sponsored by the Carsey-Wolf Center.
Storytelling for the Screen
Since their emergence, cinema and television have been in a state of constant technological and industrial flux. But even as our ways of distributing, accessing, and moving images have changed, and even as tastes and styles continue shift with the times, our passion for compelling on-screen storytelling persists. At the Carsey-Wolf Center, we are committed to fostering a nuanced understanding of cinematic and televisual storytelling across genres, formats, styles, and historical periods. To this end, we sponsor a wide range of events, programs, and workshops designed to cultivate a new generation of media storytellers, and to help audiences better understand the evolving role of narrative across diverse media forms.