Our River . . . Our Sky: Iraq Twenty Years After the Invasion
Thursday, April 13, 2023 / 7:00 PM - 9:50 PM (PDT)
Screening Format: Sony 2K digital projection (119 minutes)
With writer/director Maysoon Pachachi
Please note: this event has been rescheduled to Thursday, April 13 due to inclement weather.
Reflecting on the twenty years that have passed since the U.S.-led invasion of Iraq, the Carsey-Wolf Center presents Our River . . . Our Sky (2021), a stunning portrait of an Iraqi writer and her daughter navigating everyday life in Baghdad under the extraordinary conditions of occupation and the onset of civil war. Sara is a novelist, but no matter how hard she tries, she cannot write anymore. All over the city, people of different religions are being forced out of their homes, and neighborhoods are increasingly divided by concrete walls. At night, under curfew, residents remain trapped inside their houses. As her daughter sleeps fitfully against a muted background of mortars and gunfire, Sara scribbles numbers on scraps of paper and sticks them to a map of Baghdad hung on her wall. At least if she keeps track of the attacks, she can try to predict where the next one may happen. Our River . . . Our Sky weaves together the stories of intersecting lives within a single neighborhood to bring to light how a community finds its strength to live through the darkest of times.
After the screening, the Carsey-Wolf Center presented a pre-recorded Zoom discussion between director Maysoon Pachachi and moderator Mona Damluji (Film and Media Studies, UCSB).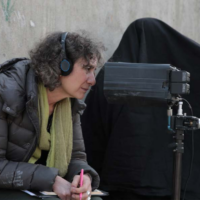 Writer/director Maysoon Pachachi
Maysoon Pachachi is a London-based filmmaker of Iraqi origin. She was educated in Iraq, the U.S., and the U.K.. She studied Philosophy at University College London (BA Hons) and then filmmaking at the London Film School. She was for many years a documentary and drama film editor in the U.K., and has worked since 1994 as an independent documentary film director, largely making films in and about the Middle East.
Maysoon has also taught film directing and editing in Britain and Palestine (in Jerusalem, Gaza and at Birzeit University). In 2004, with her colleague, Iraqi filmmaker Kasim Abid, she co-founded Independent Film & Television College, a free-of-charge film-training center in Baghdad, whose students produced 17 short documentary films, shown at festivals and screenings internationally and within Iraq at a traveling festival.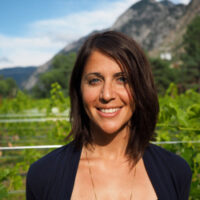 Moderator Mona Damluji (Film and Media Studies, UCSB)
Mona Damluji is Assistant Professor of Film & Media Studies at the University of California, Santa Barbara. She has worked as a freelance producer and editing assistant for independent documentary filmmakers and television outlets including PBS, NBC Olympics, and the National Geographic Channel. Mona's teaching, research and creative work engages underrepresented media histories and cultural studies of energy, cities, and infrastructure centered in the Middle East and its diasporas.
Her current book project, Pipeline Cinema, is a history of how multinational petroleum companies have shaped local cultural norms and global popular imaginaries of oil in Iran and Iraq through film use and cultural sponsorship in the twentieth century. She is the producer of two seasons of the short documentary series The Secret Life of Muslims, and a co-curator of the traveling exhibition Arab Comics: 90 Years of Popular Visual Culture and Multitudes: An Art Exhibit after #muslimban. Mona recently authored Together (Seven Stories Press), a children's book and poem celebrating the power of collective action.
This event is sponsored by the Carsey-Wolf Center.
CWC Global
Media are global by nature; they express culture just as much as they transcend borders. The CWC Global series is dedicated to showcasing media from around the world. This series features screenings and events that place UCSB in conversation with international media makers and global contexts across our deeply connected world.