Listening to Cumbia
Tuesday, April 11, 2023 / 7:00 PM - 9:45 PM (PDT)
Screening Format: Sony 2K digital projection
With Joyce García and Alvaro Parra (filmmakers)
This screening will feature two documentaries on cumbia sonidera in Mexico City and Los Angeles: Joyce García's Yo No Soy Guapo (2018) and the premiere of Alvaro Parra's "Sonidero Metropolis" (2023).
Yo No Soy Guapo (2018, 81 minutes) is a heartfelt and authentic portrait of Tepito, one of Mexico City's proudest barrios. In her debut feature-length documentary, Veracruz-based filmmaker Joyce García focuses on cumbia sonidera (sound system cumbia), a record-based dance music scene performed in the street on locally-made sound systems. As the city begins to gentrify, prohibitions on street dances by local government threaten to shut down parties and public gatherings. Yo No Soy Guapo was awarded the Incentive Program for Cinematographic Creators of the Mexican Institute of Cinematography in the "project development" modality in 2015 and won first place in the Guanajuato's International Film Festival.
"Sonidero Metropolis"  (2023, 22 minutes) is the first episode in Alvaro Parra's documentary series about Mexican sound system culture. This episode explores the connection between the cumbia epicenter of Puebla, Mexico, and Los Angeles, California, a city where thousands of Poblanos now reside. This film depicts themes of migration, cumbia music, and labor, examined via the lives of two sonideros at opposite ends of their trajectories. Antonio De Jesus, better known as Sonido Fantasma, has been a working sonidero for 31 years. A consummate veteran at the top of his game, he often plays in cities across the U.S. and Mexico. Seventeen-year-old Gardena resident Abimael Amaro, aka Sonido Profeta, played his first show at LA's Salon Lazaro's at the age of thirteen. Sonido Profeta is part of a new generation of sonideros that utilizes livestream technology to make a name for themselves in the U.S. and abroad.
Filmmakers Joyce García and Alvaro Parra joined moderator Alexandra Lippman (Pomona College) for a post-screening discussion.
This event is presented as part of the "Listening to Cumbia" symposium, organized by the Center for the Interdisciplinary Study of Music.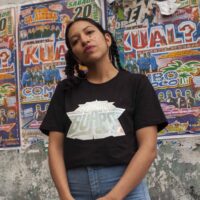 Filmmaker Joyce García
Joyce García is a filmmaker, photographer and producer born in Veracruz, Mexico. She graduated with a degree in photography from Universidad Veracruzana. She is currently working on her master's thesis in documentary cinema at the Centro Universitario de Estudios Cinematográficos. Her debut documentary, Yo No Soy Guapo, has been screened at Ambulante, Guanajuato International Film Festival, and Los Cabos International Film Festival Zanate. This screening will be its U.S. premiere.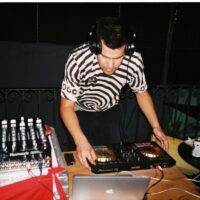 Filmmaker Alvaro Parra
Alvaro Parra is a documentary filmmaker and DJ based in Los Angeles. Currently, his studio is in production on a documentary series called Sistema: Sound System Culture in the Americas. The first episode in the series is "Sonidero Metropolis," a portrait of Mexican "sonideros" in Los Angeles and Puebla, Mexico. His most recent work includes Vendedores En Acción, a documentary about LA street vendors and their struggle to survive during the pandemic. Previous works include ASCO: No Movies, a short documentary on East LA art collective ASCO. In 2014 he was awarded an Emmy for his work as producer on KCET's Artbound episode "Mexicali Rose." He holds a MFA from the USC School of Cinematic Arts.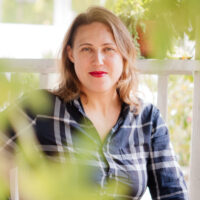 Moderator Alexandra Lippman
Alexandra Lippman is Visiting Assistant Professor of anthropology at Pomona College. She hosts Sound Study, a monthly radio show on Dublab, founded the Sound Ethnography Project, and co-runs the record label Discos Rolas. She works on popular music, sound, technology, and politics in Brazil and Mexico and is completing her first book manuscript, The Power of Funk: Race, Citizenship, and Sonic Sovereignty in Rio de Janeiro.
This event is sponsored by the Carsey-Wolf Center.
Presented in conjunction with the April 12, 2023 symposium "Listening to Cumbia."
"Listening to Cumbia" is organized by the Center for the Interdisciplinary Study of Music. Cosponsored by the IHC's Faculty Collaborative Research Grant, the Carsey-Wolf Center, the Division of Humanities and Fine Arts, KCSB-FM, Ethnomusicology Forum, and the Departments of Anthropology, Chicano/a Studies, and Film & Media Studies.


CWC Global
Media are global by nature; they express culture just as much as they transcend borders. The CWC Global series is dedicated to showcasing media from around the world. This series features screenings and events that place UCSB in conversation with international media makers and global contexts across our deeply connected world.
CWC Docs
The Carsey-Wolf Center is committed to screening documentaries from across the world that engage with contemporary and historical issues, especially regarding social justice and environmental concerns. Documentaries allow filmmakers to address pressing issues and frame the critical debates of our time.