CWC Global: Lamya's Poem
Tuesday, October 17, 2023 / 7:00 PM - 9:30 PM (PDT)
Screening Format: Sony 4K digital projection (89 minutes)
With Sam Kadi (filmmaker)
The animated film Lamya's Poem (2023) is an inspiring and timely tale about a twelve-year-old Syrian refugee girl named Lamya, who has a remarkable talent for poetry. As Lamya flees the violence of her country, she is given a book of poetry by the famous thirteenth-century poet Rumi. The book becomes a magical gateway that allows her to meet the boy Rumi, who also fled violence as a young refugee. In a shared dreamworld, the new friends battle the monsters that follow them from the real world as Lamya helps young Rumi find his calling and write the poem that will save her life 800 years later. Set against the backdrop of sweeping social change, Lamya's journey highlights the transformative and cathartic power of art, demonstrating how it can serve as a source of solace and self-discovery.
Filmmaker Sam Kadi will join moderator Juan Campo (Religious Studies, UCSB) for a post-screening discussion of Lamya's Poem.
The event will be followed by a reception sponsored by ShelterBox. Since 2000, ShelterBox has provided shelter and life-saving items following more than 300 disasters in nearly 100 countries. ShelterBox responds urgently to earthquakes, volcanoes, floods, hurricanes, cyclones, tsunami, and conflicts. It works with local partners and individuals to customize each response, which can include a disaster relief tent for an extended family, blankets, a water filtration system, emergency lighting, and other tools for survival. ShelterBox was nominated for the Nobel Peace Prize in 2018 and 2019 for its lifesaving humanitarian efforts in providing shelter and vital aid items to families displaced by the crisis in Syria. ShelterBox USA is based in Santa Barbara, California.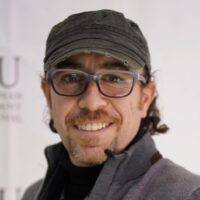 Filmmaker Sam Kadi
Sam Kadi is an award-winning filmmaker based in Santa Barbara, California. Sam is the director, writer and producer of the critically acclaimed feature drama The Citizen, which won multiple awards and was named one of the "Best 10 Films of 2013" by Examiner.com. Sam's recent war-zone documentary Little Gandhi was an Official Selection for Best Foreign Language Film for the 2017 Oscars. He is the producer of the 2023 Oscar-shortlisted feature animation film Lamya's Poem, which premiered at the 60th Annecy Film Festival (France). He has been recognized by the prestigious Cinema For Peace organization for raising awareness of human rights issues through film, and was asked to speak on the same subject before the International Criminal Court at The Hague, Netherlands. Sam is a TEDx speaker, a juror for multiple film festivals, a member of the International Animated Film Society (ASIFA-Hollywood), and a member of the Directors Guild of America (DGA), where he serves on the Guild Asian American committee.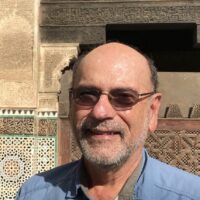 Moderator Juan Campo (Religious Studies, UCSB)
Juan Campo specializes in the comparative study of Islam and religious spatialities, particularly in the Middle East and South Asia. Professor Campo's book The Other Sides of Paradise:  Explorations in the Religious Meanings of Domestic Space in Islam won the American Academy of Religion's Award for Excellence in 1991.  His book The Encyclopedia of Islam (Facts on File, 2009, 2d ed. 2016), a one-volume reference work for students and the reading public, received a "Best of Reference" award from the New York Public Library in 2010. He is currently working on a project entitled Pilgrimages in Modernity—a comparative study of Muslim, Hindu, and Christian mass pilgrimages in the modern world.
This event is sponsored by the Carsey-Wolf Center, the Center for Middle East Studies, the Department of Religious Studies, and ShelterBox.

CWC Global
Media are global by nature; they express culture just as much as they transcend borders. The CWC Global series is dedicated to showcasing media from around the world. This series features screenings and events that place UCSB in conversation with international media makers and global contexts across our deeply connected world.