Subversives: Short Films about Intersex Life
Thursday, February 4, 2021 / 4:00 PM - 5:00 PM (PST)
With Aubree Bernier-Clarke, River Gallo & Pidgeon Pagonis
While recent years have seen the experiences of queer and trans people emerge as major concerns both in academic discourse and in public life, the question of how intersex people navigate their everyday lives remains little discussed and poorly understood. The Carsey-Wolf Center is delighted to host a screening of two short films focused on intersex lives: Aubree Bernier-Clarke's A Normal Girl (2019) and River Gallo's Ponyboi (2019). Subverting mainstream assumptions about intersex people, A Normal Girl documents the remarkable journey of the activist Pidgeon Pagonis in their quest for medical nonconformity and bodily self-determination. A poignant fiction short, Ponyboi centers on the experience of a young intersex sex worker struggling to navigate the terrains of intimacy, identity and survival.
A Normal Girl director Aubree Bernier-Clarke, activist/producer Pidgeon Pagonis, and Ponyboi director/writer/actor River Gallo joined moderator Xiuhe Zhang (Film and Media Studies, UCSB) for a virtual discussion of these two timely and compelling films.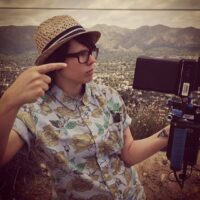 Director Aubree Bernier-Clarke
Aubree Bernier-Clarke is a Los Angeles-based director and cinematographer. Hailing from Louisville, KY, Aubree followed her punk rock heart to Portland, OR where, after a stint as Sleater-Kinney's tour nanny, she traded her musical aspirations for celluloid dreams. There, Aubree worked as Senior Creative Producer at director Lance Bangs' production company Field Recordings, and worked as a camera operator on the IFC hit Portlandia. In 2013, she relocated to Los Angeles to participate in AFI's Directing Workshop for Women, through which she developed her award-winning original short, The Night Is Ours. Aubree has directed branded and commercial work for Levi's, Honda, Toyota, HGTV, Liftmaster, Dewars, Providence, Amazon Studios, and Annapurna Pictures, among others.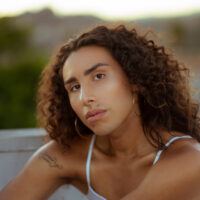 Writer/director River Gallo
River Gallo [pronouns they/them/their] is a GLAAD award-winning Salvadoran-American filmmaker, actor, writer, model and intersex activist with interACT. Their work explores the dynamics of personal and confessionary storytelling, and media's healing abilities through re-envisioning minority narratives. They are a graduate of NYU's Tisch School of the Arts Experimental Theatre Wing and the University of Southern California's School of Cinematic Arts MFA program.
Ponyboi is the first narrative film created by and starring an out intersex person in cinema history. Produced by Stephen Fry and Emma Thompson, Ponyboi premiered at the 2019 Tribeca Film Festival. River modeled for the 2019 NYC Pride Campaign, and has worked in branded content partnering with Birchbox Beauty, Badoo, and Maison Margiela. They received the "Rising Star Award" at the 2019 GLAAD Media Awards. In 2020 they starred in an episode of Hulu's Love, Victor and became an awardee of the Ryan Murphy HALF Initiative for television directing. They are currently developing Ponyboi as a feature film with 141 Entertainment.  River is the co-founder of Gaptoof Entertainment, a multi-media production house in Los Angeles, which focuses on intersectionality and creating inclusive spaces for POC, LGBTQIA+, and womxn narratives.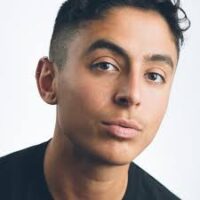 Documentary subject Pidgeon Pagonis
Pidgeon Pagonis has slowly, oftentimes not so quietly, risen to visibility in Chicago as not only an activist on behalf of intersex people, but also as a fighter for the recognition of marginalized others in general, regardless of race, sex or gender identity, class or creed. Whether advancing youth advocacy with interACT, producing informational videos that go viral on Buzzfeed, writing for Everyday Feminism or appearing on the cover of National Geographic "Gender Revolution" special issue, Pidgeon has staked out a place at the fore of debates on intersexuality and otherness.
In 2015, they launched a worldwide #intersexstories twitterstorm on Intersex Awareness Day. That same year, they were among 9 LGBTQ Artists honored with a Champion of Change Award from the Obama White House. In 2016, they were featured on the cover of National Geographic's January issue titled Gender Revolution, launched an intersex-resource YouTube channel, co-founded the group Intersex Justice Project (IJP), introduced an intersex and non-binary art and clothing line (Too Cute to Be Binary), and also made a cameo on Amazon's Transparent. In 2017, their short documentary The Son I Never Had premiered at Outfest and won a jury award at NCGLFF. Later that year, their mixed-media installation Surprise, It's a Baby!—which challenges our society's obsession with gender reveal parties and binaries—opened at the UIC Gender and Sexuality Center, and they co-led—with fellow members of IJP—multiple #EndIntersexSurgery protests in Chicago and New York City. Currently, Pidgeon is documenting intersex people of color for a new photo series called Physical Record funded by Astraea's Intersex Human Rights Fund.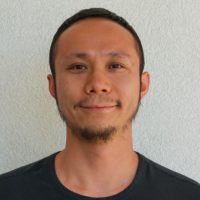 Moderator Xiuhe Zhang
Xiuhe Zhang is currently pursuing his PhD in Film and Media Studies at the University of California, Santa Barbara. Born and raised in Northeast China, Xiuhe received his BA in Television Photography from Communication University of China, and an MFA in Cinematography from the University of Miami. Before coming to UCSB, he graduated from San Francisco State University with an MA in Cinema Studies. His current research project explores mainland Chinese (self-)mediations of sex workers and the sexual economy, particularly through historiographic and media anthropological lenses.
This event is sponsored by the Carsey-Wolf Center.

Subversives
Throughout film history and across the globe, mediamakers have resisted social conventions and attracted the ire of governments and censorship boards. The Carsey-Wolf Center's fall 2020 and winter 2021 screening series will showcase films and TV shows considered politically, socially, culturally, and ideologically subversive. From mischievous caricatures to biting social critiques, the events in this series invite discussion of the efficacy of subversion and the historical contexts that have rendered these works subversive in the first place.
CWC Docs
The Carsey-Wolf Center is committed to screening documentaries from across the world that engage with contemporary and historical issues, especially regarding social justice and environmental concerns. Documentaries allow filmmakers to address pressing issues and frame the critical debates of our time.