Hip-Hop: Beyond Beats & Rhymes
Tuesday, April 28, 2015 / 7:00 PM - 9:00 PM (PDT)
Screening Format: Blu-Ray (61 Minutes)
With Byron Hurt (Director/Activist) & Chuck D (Rapper/Producer)
Hip-Hop: Beyond Beats & Rhymes (2006) provides a riveting examination of manhood, sexism, and homophobia in hip-hop culture. Director Byron Hurt, former college quarterback and gender violence prevention educator, pays tribute to hip-hop while challenging the rap music industry to take responsibility for glamorizing destructive stereotypes of manhood. The documentary features revealing interviews about masculinity and sexism with rappers such as Mos Def, Chuck D, and Busta Rhymes, hip-hop mogul Russell Simmons, and cultural commentators such as Michael Eric Dyson and Beverly Guy-Shetfall. Acclaimed for its fearless engagement with issues of race, gender violence, and the corporate exploitation of youth culture.

Following the screening there was a Q&A with Director/Activist Byron Hurt and Rapper/Producer Chuck D.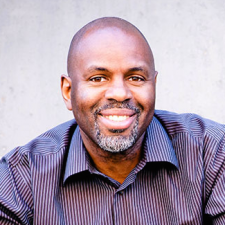 Director Byron Hurt

Byron Hurt is an award-winning documentary filmmaker, published writer, anti-sexist activist, and lecturer. He is also the former host of the Emmy-nominated television show, Reel Works with Byron Hurt. For more than 20 years, Hurt has been using his craft, his voice, and his writings to broaden and deepen how people think about gender violence, race, music, visual media, and food justice. As an activist, Byron has served as a gender violence prevention educator. The former Northeastern University football quarterback was also a founding member of the Mentors in Violence Prevention (MVP) program, the leading college-based rape and domestic violence prevention initiative for college and professional athletics. Hurt also served as an Associate Director of the first gender violence prevention program in the United States Marine Corps.
Hurt has been featured in various media publications ranging from The New York Times, Wall Street Journal, The Los Angeles Times, The Atlanta Journal-Constitution, The Philadelphia Tribune, and The Final Call. He has also been featured in O, The Oprah Magazine, Mother Jones, Black Enterprise, The Source & Double XL Magazines; as well as allhiphop.com. He has also appeared or been heard on MSNBC, NPR, CNN, Access Hollywood, MTV, BET, ABC News World Tonight, NBC-New York, C- Span, and The Tom Joyner Morning Show, The Michael Baisden Show, among countless other outlets. Comments and reviews of his films can be found all over the Internet and in the blogosphere.
Rapper/Producer Chuck D
Chuck D is an American rapper, author, and producer. As the leader of the rap group Public Enemy, he helped create politically and socially conscious hip hop music in the mid-1980s. About.com ranked him at No. 9 on their list of the Top 50 MCs of Our Time, while The Source ranked him at No. 12 on their list of the Top 50 Hip-Hop Lyricists of All Time.
Among his many song credits, he also loaned his voice to Grand Theft Auto: San Andreas as DJ Forth Right MC for the radio station Playback FM. In 2000, he collaborated with Public Enemy's Gary G-Whiz and MC Lyte on the theme music to the television show Dark Angel.
Chuck D is also politically active; he co-hosted Unfiltered on Air America Radio, testified before Congress in support of peer-to-peer MP3 sharing, and was involved in a 2004 rap political convention. He continues to be an activist, publisher, lecturer, and producer.
This event is sponsored by the Carsey-Wolf Center and the Department of Film & Media Studies.
CWC Docs
The Carsey-Wolf Center is committed to screening documentaries from across the world that engage with contemporary and historical issues, especially regarding social justice and environmental concerns. Documentaries allow filmmakers to address pressing issues and frame the critical debates of our time.