Ghana's Electric Dreams
Tuesday, April 30, 2019 / 7:00 PM - 9:15 PM (PDT)
Screening Format: Blu-Ray (60 Minutes)
With Rudo Sanyanga, R. Lane Clark, and Stephan Miescher
Ghana's Electric Dreams presents the planning and wide-ranging impact of the Akosombo Dam, Ghana's most ambitious development project. The film visits sites affected by the hydroelectric dam and by the broader vision of modernization that it represents. Historical footage and interviews with Ghanaians reveal the complexity and contradictions, unintended consequences, social inequities, rural/urban divides, and gender differences that underlie this confluence of energy, power, and creativity in the West African country.
Rudo Sanyanga (International Rivers Network, Africa Program Director), R. Lane Clark (director/producer), and Stephan Miescher (producer; History, UCSB) joined moderator Janet Walker (Film and Media Studies, UCSB) for a post-screening discussion.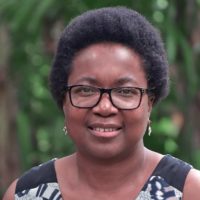 International Rivers Network, Africa Program Director Rudo Sanyanga
Rudo Sanyanga is an aquatic ecologist who leads International Rivers campaigns to stop proposed destructive dams on the African continent. She is an advocate for conservation of rivers and promotes the adoption of clean renewable energy technologies. Rudo has years of experience on Southern Africa's rivers and has witnessed the socio-economic impacts of dams on communities during her ten years working at Kariba Dam and on the ecology of the Zambezi River. In a career spanning over twenty-five years, Rudo has conducted research and lectured at the University of Zimbabwe, at Bindura University, and at Whitman College. As a lecturer she has taught freshwater ecology courses, environmental sciences, water resource management, and EIA methodology. Since joining International Rivers, she has worked with the Africa team on the Gibe II/Lake Turkana campaign, on the Zambezi basin climate studies, on Lesotho Highlands resettlement issues, and on the Inga 3 campaign.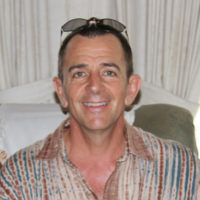 Director/Producer R. Lane Clark
Over the past twenty years R. Lane Clark has directed, shot, and/or edited over a dozen art and documentary films, mostly in African contexts. After traveling to West Africa for the first time, he completed his MFA in Time-Arts and Painting at the School of the Art Institute of Chicago in 1992. He was then awarded a Fulbright Research Grant to work in Ghana for two years on documentaries about Akan culture. Ghana has become a second home to Clark, and he frequently returns to work on documentaries and to teach. In 2009 he completed two films interrogating the concepts of health and wellbeing among women and girls in Ghana's capital city of Accra. Many of his films seek to engender deeper understanding between peoples and across cultures. Throughout his career, Clark has continued to work in a variety of mediums, including paintings, photography, documentary videos, and theater sets, which have been exhibited widely in the US and Europe.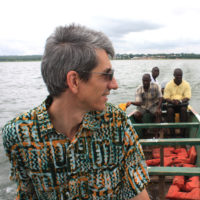 Stephan F. Miescher (Producer; History, UCSB)
Stephan Miescher is Associate Professor of History at UC Santa Barbara. His research interests include gender, masculinities, oral history, environmental history, and the history of development and technology in West Africa. After studying in Switzerland, he received his Ph.D. in African history from Northwestern University. Miescher is the author of Making Men in Ghana (2005) and co-editor of six collections, among them Gender, Imperialism, and Global Exchanges (2015), Modernization as Spectacle in Africa (2014), and Africa After Gender? (2007). His book A Dam for Africa: The Volta River Project and Modernization in Ghana will be published by Indiana University Press in 2020. Miescher co-edited Ghana Studies (2008-2013), co-directed the UC African Studies Multi-Campus Research Group (2008-2012), and currently serves as co-convener of the UCSB Mellon Sawyer Seminar "Energy Justice in Global Perspective" (with Javeria Barandiarán, Mona Damluji, David Pellow, and Janet Walker).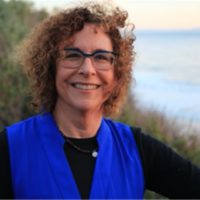 Moderator Janet Walker
Janet Walker is professor of Film and Media Studies at UC Santa Barbara, where she teaches and researches in the areas of documentary film; feminist, trauma, and memory studies; and media and environment. Her books include Trauma Cinema: Documenting Incest and the Holocaust (UC Press, 2005), Documentary Testimonies: Global Archives of Suffering (with Bhaskar Sarhar, Routledge 2010) and, most recently, Sustainable Media: Critical Approaches to Media and Environment (with Nicole Starosielski, Routledge 2016). She is the co-recipient of a 2017-2019 Mellon Sawyer Seminar award for a project entitled "Energy Justice in Global Perspective" and is writing a book on media mapping and critical environmental justice.
 This event is sponsored by the Carsey-Wolf Center
and the UCSB Mellon Sawyer Seminar on Energy Justice in Global Perspective.
Visit the Sawyer Seminar website for more details on this yearlong program.