Free Angela & All Political Prisoners
Thursday, October 10, 2013 / 7:00 PM (PDT)
Screening Format: Blu-Ray (102 Minutes)
With Angela Davis (Scholar/Activist) & Sidra Smith (Producer)
Free Angela (2012) is a riveting documentary about the events that catapulted a young, University of California philosophy professor–Angela Davis–into a controversial political icon in the late 1960's.
Angela Davis joined the Communist Party, protested with the Black Panthers, and became a spokesperson for the burgeoning prison reform movement. She fleed, convinced she would not be given a fair trial. After being placed on the FBI's 10 Most Wanted list, she was captured in New York City after a two-month manhunt. Charged with murder, kidnapping and conspiracy, Angela was put on trial in one of the most sensational court cases of its time.
The Carsey-Wolf Center, the UCSB Department of Black Studies, the UCSB Department of Film Studies, Sol Sisters Rising, KCSB and the UCSB Division of Student Affairs were proud to present the film at the Pollock Theater. This riveting film was a major contender to be one of the 2014 Best Documentary Oscar nominees.
Following the screening was a Q&A with Dr. Angela Davis and Producer Sidra Smith, moderated by UCSB Associate Professor of Black Studies Dr. Gaye Theresa Thompson.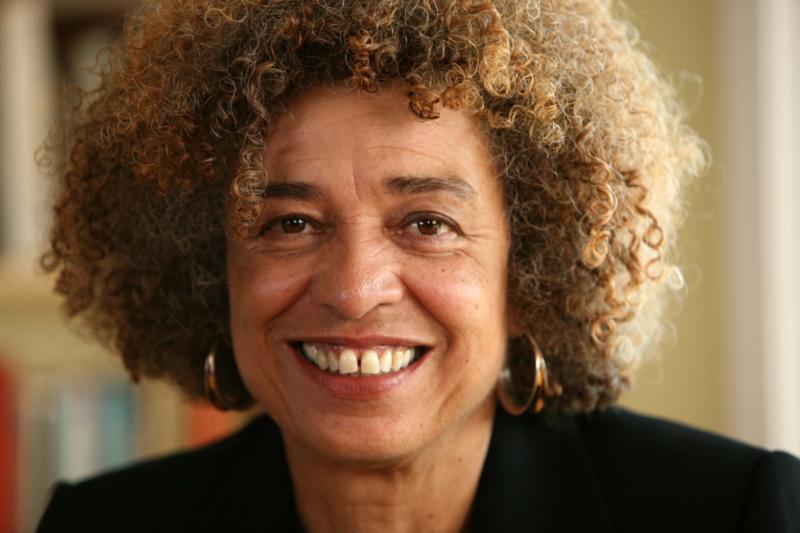 Political Activist/Scholar Angela Davis
Angela Davis is an activist, scholar and writer who advocates for civil rights. Davis earned her master's degree from University of California, San Diego, and her doctorate in philosophy from the Humboldt University in East Berlin. She was influenced by Black Power advocates and joined the Student Nonviolent Coordinating Committee (SNCC) and then the Black Panther Party. She joined the U.S. Communist Party and was jailed for charges related to a prison outbreak, though ultimately cleared. Known for books like Women, Race & Class, she has worked as a professor and activist who advocates gender equity, prison reform and alliances across color lines. Her interests include prisoner rights; she co-founded Critical Resistance, an organization working to abolish the prison-industrial complex. She was a professor (now retired) at the University of California, Santa Cruz in its History of Consciousness Department and a former director of the university's Feminist Studies department.
Producer Sidra Smith
Sidra Smith, also known as actress Tasha Smith's twin sister, started her career casting music videos for Dr. Dre in the early 90's and moved quickly to assisting on feature films, before creating Sidra Smith Casting that focused on ad campaigns and TV commercials. She directed her first feature film in 1999, A Luv Tale, which won the Audience Award at the Hollywood Black Film Festival. She also lived in Ghana for two years where she produced documentaries and 50 episodes of a pan African talk show.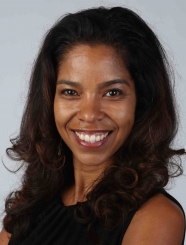 Moderator Gaye Theresa Thompson
Dr. Gaye Theresa Johnson is an Associate Professor of Black Studies with affiliations in the Departments of History and Chicana/o Studies at UC Santa Barbara. She writes and teaches on race and racism, cultural history, and political economy. Her first book, Spaces of Conflict, Sounds of Solidarity: Music, Race, and Spatial Entitlement in Los Angeles, published by the University of California Press, is a history of civil rights and spatial struggles among Black and Brown freedom seekers and cultural workers in LA. Johnson's second book, entitled Women in Hip Hop: A Radical Herstory, is under contract with Haymarket Press. Johnson is a Founding Partner of Sol Sisters Rising, a collective dedicated to elevating women of color in film.
This event is sponsored by the Carsey-Wolf Center.
CWC Docs
The Carsey-Wolf Center is committed to screening documentaries from across the world that engage with contemporary and historical issues, especially regarding social justice and environmental concerns. Documentaries allow filmmakers to address pressing issues and frame the critical debates of our time.