Shoah: Four Sisters: The Hippocratic Oath and Baluty
Sunday, April 28, 2019 / 2:00 PM - 5:45 PM (PDT)
Screening Format: DCP (154 Minutes)
With Regina Longo (film and media archivist, Brown University)
Director: Claude Lanzmann


Starring: Paula Biren, Ruth Elias
This special two-part event features Claude Lanzmann's final film Shoah: Four Sisters.  Starting in 1999, Claude Lanzmann made several films that could be considered satellites of his 1985 masterpiece Shoah, comprised of interviews conducted in the 1970s that didn't make it into the final, monumental work. In the last years of the late director's life, he decided to devote a film to four women from four different areas of Eastern Europe with four different destinies, each finding herself improbably alive after war's end: Ruth Elias from Ostravia, Czechoslovakia; Paula Biren from Lodz, Poland; Ada Lichtman from further south in Krakow; and Hanna Marton from Cluj, or Kolozsvár, in Transylvania. Survivors of unimaginable Nazi horrors during the Holocaust, they tell their individual stories and become crucial witnesses to the barbarism they experienced. Each possesses a vivid intelligence and a commitment to candor that make their accounts of what they suffered through both searing and unforgettable. Tonight's screening of The Hippocratic Oath and Baluty takes up the stories of Ruth Elias and Paula Biren. The final two installments of Four Sisters will screen on Thursday, May 2 at 7:00 PM.  

Regina Longo (film and media archivist, Brown University) joined moderator Harold Marcuse (History, UCSB) for a post-screening discussion.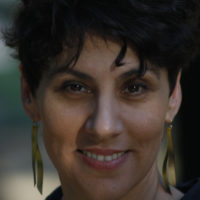 Regina Longo (film and media archivist, Brown University)
Regina Longo is a film and media archivist, historian, archival researcher, and producer.  She currently manages the MCM archives and teaches courses on audiovisual archiving in the department of Modern Culture and Media at Brown University. Longo spent six years at the United States Holocaust Memorial Museum (USHMM) in Washington, D.C., where, among other projects, she was responsible for managing the work restoring and reconstructing the outtakes of Claude Lanzmann's Shoah. She has managed digitization and preservation efforts at the Albanian National Film Archives and the Smithsonian's Human Studies Film Archives. She has taught film history and archiving at SUNY Purchase, UC Santa Cruz, and UC Santa Barbara, where she also received her PhD. Longo continues to volunteer her professional skills to aid moving image archives at risk in various parts of the world.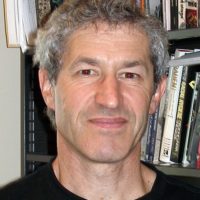 Moderator Harold Marcuse (History, UCSB)
Harold Marcuse is a professor of German and public history in the UC Santa Barbara History department. His research investigates evocations of of Nazism, World War II, and the Holocaust in the public sphere, especially through historical monuments, memorials, museums, films, and memoirs. His publications include a monograph Legacies of Dachau, which addresses the uses of the former concentration camp since 1945, and articles about Holocaust memorials, museums, and memorial sites around the world. He uses oral history in his work and has conducted numerous interviews with Holocaust survivors and their descendants.
 This event is sponsored by the Carsey-Wolf Center and the Herman P. and Sophia Taubman Symposia in Jewish Studies.