Floyd Norman: An Animated Life
Thursday, March 7, 2019 / 7:00 PM - 9:30 PM (PST)
Screening Format: DCP (95 minutes)
With Animator Floyd Norman
Invoking the energetic and defiant spirit of its main subject, Floyd Norman: An Animated Life offers a captivating tour of the sixty-year career of its eponymous animator and writer. Dubbed by peers as "animation's Forrest Gump," Norman had a remarkable professional journey that included time at Disney (from Sleeping Beauty to Mulan), Hanna-Barbera (The Smurfs), and Pixar (Toy Story 2 and Monsters, Inc.).
Floyd Norman joined moderator Vilna Bashi Treitler (Black Studies, UCSB) for a post-screening discussion.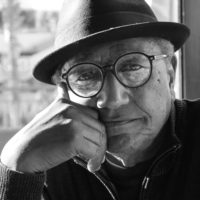 Animator Floyd Norman
Hired as the first African-American animator at Disney Studios in 1956, Floyd Norman was soon hand-picked by Walt Disney to join the story team for The Jungle Book. After Walt Disney passed away, Norman left Disney to found his own production company, Vignette Films, Inc., which produced Black history films for high schools. During the 1970s and 1980s, Mr. Norman contributed to major television animation studios including Hanna-Barbera and Ruby-Spears Productions, working on titles including Godzilla, The Smurfs, and Alvin & the Chipmunks. In the 1980s, Norman returned to Disney and eventually joined the story department for Mulan (1998). He later joined Pixar Animations and contributed to Toy Story 2 (2001) and Monsters, Inc. (2003). After being pushed into retirement by the studio, Norman commandeered an empty desk at Disney Studios where he continues to work on diverse projects and to inspire young animators.
Floyd Norman has been honored with a slew of awards within his industry. He is a member of the Black Filmmaker Hall of Fame and a certified Disney Legend. He is also the recipient of a career achievement award from the Annie Awards, and an Inkpot Award from Comic-Con.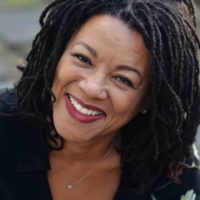 Moderator Vilna Bashi Treitler
Vilna Bashi Treitler is Professor and Chair of Black Studies at UC-Santa Barbara. Her scholarship theorizes about international migration, race and ethnicity, and the dynamics of hierarchical socioeconomic structures. Her books include The Ethnic Project: Transforming Racial Fictions into Ethnic Factions (Stanford, 2013), Survival of the Knitted: Immigrant Social Networks in a Stratified World (Stanford, 2007), and Race in Transnational and Transracial Adoption (Palgrave Macmillan, 2014). In 2016 she co-edited a monograph issue of the journal Current Sociology, and in January 2017 she was named "Sociologist of the Month" by Current Sociology. Her latest article is on "Outsider Sociology," published in the December 2018 issue of Sociological Forum. She is the past Vice President of the Eastern Sociological Society, and past Vice Chair of the UN NGO Committee on the Elimination of Racism, Afrophobia, and Colorism. Treitler is also a visual artist, who works in oil on canvas and Masonite; and in pigment painted and fired on glass.
 This event is sponsored by the Carsey-Wolf Center, the MultiCultural Center, and the Department of Black Studies.
CWC Docs
The Carsey-Wolf Center is committed to screening documentaries from across the world that engage with contemporary and historical issues, especially regarding social justice and environmental concerns. Documentaries allow filmmakers to address pressing issues and frame the critical debates of our time.