Exposing Muybridge
Thursday, May 19, 2022 / 7:00 PM - 9:15 PM (PDT)
Screening Format: Sony digital projection (86 Minutes)
With Marc Shaffer (writer/director)
Exposing Muybridge marks the first feature documentary to chronicle the fascinating tale of nineteenth-century photographer Eadweard Muybridge, the mysterious figure whose work fast-tracked the development of early motion pictures. Written and directed by Marc Shaffer, the documentary sheds light on Muybridge's early career as a photographer of U.S. military conflicts with Native Americans in the West. However, Muybridge is perhaps best known for The Horse in Motion (1878), a series of sequential images commissioned to document the movement of the animal's limbs at full gallop. The documentary reveals the strange story behind its development and the eventual betrayal by the patron who sought sole credit. Well over a century later, Exposing Muybridge uses interviews with historians, photographers, and even actor Gary Oldman—a collector of Muybridge's work—to illustrate the lasting significance of his contributions to film and photography.
Writer/director Marc Shaffer joined Cristina Venegas (Film and Media Studies, UCSB) for a post-screening discussion of Exposing Muybridge. 
COVID-19 event policies: Patrons attending this event will be required to show either a UCSB COVID status green pass, proof of full COVID-19 vaccination, or the results of a negative PCR test taken within 72 hours of the event, with matching photo ID. Audience members must bring masks and wear them for the entire duration of the event. For further details, please visit this page.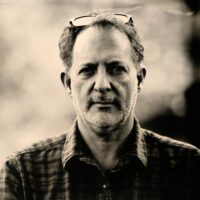 Writer/director Marc Shaffer
Marc Shaffer became enchanted with Eadweard Muybridge while directing American Jerusalem: Jews and the Making of San Francisco (PBS, 2014), which used many Muybridge photographs. Shaffer's more than two dozen documentaries have been seen by viewers in the U.S. and around the globe on PBS, National Geographic, Al Jazeera, in theaters, and online. Shaffer's work has been recognized with three national Emmy nominations, seven Cine Golden Eagle Awards, a Cine Special Jury Award, the Society of Professional Journalists' Sigma Delta Chi Award and many other honors.
(photo credit: Tony C. Sehgal)
Moderator Cristina Venegas
Cristina Venegas is Associate Professor of Film and Media Studies where she teaches courses related to history, criticism and theory with an emphasis on Latin American film and media. She is the author of Digital Dilemmas: The State, the Individual and Digital Culture in Cuba (Rutgers, 2010), a Choice Book Award recipient and is co-editor of Digital Activism, Community Media, and Sustainable Communication in Latin America (Palgrave, 2020). Her current book project is titled Julio García Espinosa and the Imperfect Imagination which examines the global legacy of the eponymous Cuban filmmaker's (1926-2016) theory, creative practice and cultural work. She is co-editor of the Media Matters book series for Rutgers University Press.
This event is sponsored by the Carsey-Wolf Center.
CWC Docs
The Carsey-Wolf Center is committed to screening documentaries from across the world that engage with contemporary and historical issues, especially regarding social justice and environmental concerns. Documentaries allow filmmakers to address pressing issues and frame the critical debates of our time.