CWC Docs: Partners in Crime
Thursday, April 27, 2023 / 7:00 PM - 9:30 PM (PDT)
Screening Format: Sony 2K digital projection (90 minutes)
With Paromita Vohra (director)
Who owns a song: the person who made it or the person who paid for it? Is piracy organized crime or class struggle? Is the fine line between plagiarism and inspiration a cop-out, or a whole new way of looking at the fluid nature of authorship, perhaps even a whole new kind of cultural freedom?
Full of wicked irony, great music, and thorny questions about culture, ownership, creativity, and authorship, the documentary Partners in Crime (2011) travels to various parts of India to explore the grey horizons of copyright and culture in the midst of dramatic technological and economic change.
Metalheads who market their own music, folklorists who turn tribal aphorisms into short stories, music archivists who hoard and share everything they can get their hands on, anti-piracy fanatics who think piracy funds terrorism, a smooth-talking DVD street salesman who outlines the efficiency of the illegal market, media moguls and lobbyists: these are the fascinating figures who throng the global bazaar at the heart of Partners in Crime.
Director Paromita Vohra joined moderator Bhaskar Sarkar (Film and Media Studies, UCSB) for a post-screening discussion of Partners in Crime.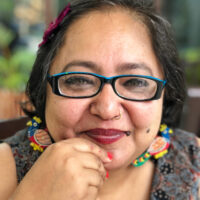 Director Paromita Vohra
Paromita Vohra is a filmmaker and writer who works in a range of forms, including film, comics, digital media, installation art, and text to explore themes of feminism, desire, sexuality, and popular culture. In 2013, Time Out Mumbai listed her as one of ten artists who have changed the way Indians watch films. Her work has been exhibited at the Tate Modern, the Wellcome Gallery, and the National Gallery of Modern Art, and has been broadcast internationally and taught in universities worldwide. In 2015, she founded Agents of Ishq, an award-winning digital platform which transformed conversations on sex, love, and desire for young Indians. She is currently its Creative Director.
Her films as director include the documentaries Unlimited Girls, Q2P, Where's Sandra? and Morality TV and the Loving Jehad: Ek Manohar Kahanai, among others. She is also director of a series of short musical films including The Amorous Adventures of Megha and Shakku in the Valley of Consent. She is the writer of the fiction feature Khamosh Pani (Silent Waters), the documentaries Skin Deep, Stuntmen of Bollywood, and If You Pause, the play Ishquiya: Dharavi Ishtyle, and the comic Priya's Mirror. Her fiction and non-fiction are published widely and she writes a weekly newspaper column, "Paro-normal Activity" in Sunday Mid-day.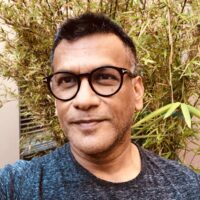 Bhaskar Sarkar (Film and Media Studies, UCSB)
Bhaskar Sarkar is the author of Mourning the Nation: Indian Cinema in the Wake of Partition (Duke University Press, 2009), a critical exploration of the cinematic traces of a particular historical trauma. He has coedited the collections Documentary Testimonies: Global Archives of Suffering (Routledge, 2009), Asian Video Cultures: In the Penumbra of the Global (Duke University Press, 2017), and The Routledge Handbook of Media and Risk (Routledge, 2020). He has also coedited two journal special issues: Postcolonial Studies (2005), on "The Subaltern and the Popular" and BioScope: South Asian Screen Studies (2012), on "Indian Documentary Studies." At present, he is completing a monograph titled Cosmoplastics: Bollywood's Global Gesture. He has also begun work on a monograph about piratical practices in the Global South, and a second monograph on queer underground club cultures in millennial Los Angeles.
This event is sponsored by the Carsey-Wolf Center.
CWC Docs
The Carsey-Wolf Center is committed to screening documentaries from across the world that engage with contemporary and historical issues, especially regarding social justice and environmental concerns. Documentaries allow filmmakers to address pressing issues and frame the critical debates of our time.
CWC Global
Media are global by nature; they express culture just as much as they transcend borders. The CWC Global series is dedicated to showcasing media from around the world. This series features screenings and events that place UCSB in conversation with international media makers and global contexts across our deeply connected world.