Uncovered: Health Care Conversations with Ady Barkan
Tuesday, October 29, 2019 / 7:00 PM - 9:00 PM (PDT)
Screening Format: high-resolution Quicktime (60 Minutes)
With Ady Barkan (activist), Liz Jaff (series creator), and Nick Bruckman (director)
Since his ALS diagnosis in 2016, activist Ady Barkan and his family have struggled to keep up with insurance paperwork, doctors' bills, and prescription drugs. Rather than diminish his voice, these experiences have emboldened Barkan to expand his initiatives in new directions. He co-founded the Be A Hero PAC, wrote an autobiography titled Eyes to the Wind, and launched himself into ambitious media projects. This event focuses on Barkan's video short series Uncovered: Health Care Conversations with Ady Barkan, which explores the complicated obstacles facing healthcare reform in the U.S. through short, personal conversations between Ady and his guests. In addition to videos of Barkan interviewing Democratic political candidates, the series highlights ordinary Americans' often fraught encounters with the U.S. healthcare system. The series is a collaboration between the Be A Hero PAC, NowThis News, and Crooked Media.
Ady Barkan, series creator Liz Jaff, and director Nick Bruckman joined moderator Emily Zinn for a post-screening discussion.
Courtesy of Chaucer's Books, copies of Ady Barkan's memoir Eyes to the Wind will be available for purchase at the event.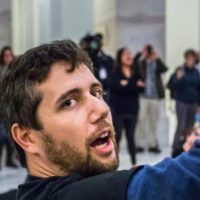 Activist Ady Barkan
Ady Barkan is an organizer and activist with the Center for Popular Democracy in Brooklyn, NY, and the founder of the Be A Hero PAC. He recently published a memoir, Eyes to the Wind: A Memoir of Love and Death, Hope and Resistance, and released a series of interviews on health care with Democratic presidential candidates titled Uncovered: Health Care Conversations with Ady Barkan.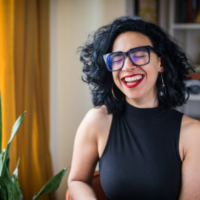 Series Creator Liz Jaff
Liz Jaff is the President of Be A Hero PAC, which she co-founded with Ady Barkan. Be A Hero organizes political crowdfunding campaigns and produces the Uncovered: Health Care Conversations with Ady Barkan series. Previously, Jaff worked at the White House, the U.S. Agency for International Development and the Department of Commerce. She helped recruit the 2017 Democratic National Committee Tech team, now one of the biggest and most diverse in the history of the DNC. She also sits on the board of Netroots Foundation.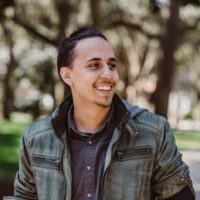 Director Nick Bruckman

Nick Bruckman is a film producer/director and founder of People's Television, a creative storytelling agency. Bruckman produced the feature film Valley of Saints, which won the Audience Award at the Sundance Film Festival. He previously directed the award-winning documentary La Americana. Through People's Television, Bruckman creates content for Fortune 500 brands and social-impact organizations including Greenpeace, the United Nations, the Nature Conservancy, and the Be a Hero Campaign.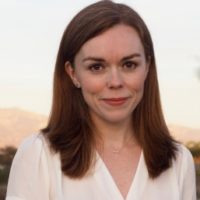 Moderator Rachael King
Rachael King is an associate professor of English at UCSB. Her research focuses on eighteenth-century manuscripts, newspapers, and periodicals. She is the author of Writing to the World: Letters and the Origins of Modern Print Genres and editor of After Print: Eighteenth-Century Manuscript Cultures.
This event is sponsored by the Carsey-Wolf Center.

CWC Docs
The Carsey-Wolf Center is committed to screening documentaries from across the world that engage with contemporary and historical issues, especially regarding social justice and environmental concerns. Documentaries allow filmmakers to address pressing issues and frame the critical debates of our time.