Comedy Writing is a Team Sport
Saturday, October 21, 2023 / 9:00 AM (PDT)
With Gabe Liedman (PEN15, Broad City)
Wallis Annenberg Conference Room (SSMS 4315)


A Storytelling for the Screen weekend workshop
Led by showrunner, screenwriter, comedian, and producer Gabe Liedman, this special Storytelling for the Screen weekend workshop gives participants the chance to explore the vital role of collaboration and teamwork in the development of comedic scripts. Many people underestimate the importance and power of collaboration in the writing process; it's often thought of as such a solo act. In reality, working television and screenwriters collaborate all the time, especially in comedy. The current WGA/SAG-AFTRA labor movements have put a spotlight on just how many writers, with unique backgrounds and points of view, come together to make the shows and movies we love. In this workshop, participants will get a chance to learn firsthand the real-world applications of collaborative writing. Participants will work together, along with Gabe, on original world-building and character creation—known in the industry as The Development Process—then have fun punching up one of Gabe's original TV first drafts (Season 1 episode 7 of Pen15, "AIM").
Admission to this workshop is by application only. We welcome applications from students in all disciplines, but require evidence of academic and/or professional experience in screenwriting. Full application details and requirements can be found at the link at right. Applications must be received by noon on Friday, October 6, 2023 to receive full consideration. Before applying, please note that participants will meet on both Saturday, October 21 and Sunday, October 22. A complete workshop schedule is provided on the application form linked at right. Please direct any questions regarding the application process to Carsey-Wolf Center assistant director Tyler Morgenstern at tylermorgenstern@ucsb.edu.
This workshop is presented in conjunction with the Carsey-Wolf Center's presentation of Barb and Star Go to Vista Del Mar at the Pollock Theater on Saturday, October 21. Liedman will present the film and join us for a short post-screening Q&A.
This workshop is open to UCSB students in all majors and departments by application. Click the button above to learn more about eligibility requirements and to submit your application materials.
Applications are due by noon on Friday, October 6, 2023.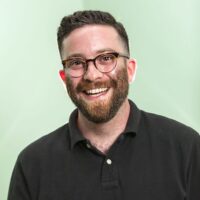 Gabe Liedman (writer/producer)
 This event is sponsored by the Rick Rosen Storytelling for the Screen Fund.