Cities of Sleep
Tuesday, February 21, 2017 / 7:00 PM (PST)
Screening Format: Blu-Ray (74 Minutes)
With Shaunak Sen (Director)
The documentary Cities of Sleep (2015) takes us into a heady world of insurgent sleepers' communities and the infamous "sleep mafia" in Delhi, where just securing a safe sleeping spot often becomes a question of life and death. The film traces the lives of two individuals, Shakeel and Ranjeet. Shakeel, a renegade homeless sleeper, has for the last seven years slept in a diverse range of improvised places like subways, under park benches, parking lots, abandoned cars and, most recently, at areas controlled by the sleep mafia. Ranjeet runs the "sleep-cinema" community at Loha Pul, a huge double-story iron bridge straddling the banks of the river Yamuna. A thin strip of land under Loha Pul houses shanty cinemas where over 400 homeless people sleep through the day for a nominal price. The flooding of the river Yamuna poses a threat to the people sleeping there each monsoon season. The film not only looks at the tremendous pressure that the need to find a safe place to sleep exerts on the homeless in the city, but also presents a broader philosophical exploration of sleep.
Director Shaunak Sen joined Bhaskar Sardar (Film and Media Studies, UCSB) for a post-screening discussion.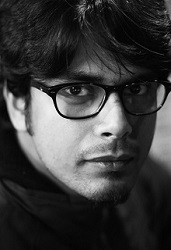 Director Shaunak Sen

Shaunak Sen is a filmmaker, video artist and scholar based in Delhi. Cities of Sleep is his first feature-length documentary. He has edited various other documentary and experimental fiction/non-fiction films including Squad's Fall Guys (2013), Old Town (2013) and T&Lily (2014).
Sen co-curated a live-event installation called Downtime, which was held simultaneously at Delhi and Berlin (at the Goethe Institute in New Delhi and Neukölln in Berlin) in November 2014. He also co-curated a live performance/video installation event Notes on Mourning at Khoj Studios in January 2015. Shaunak was the recipient of a Digital and Social Media Fellowship from Sarai in 2014. A mass communication graduate of AJK MCRC Jamia Milia in New Delhi, he is currently enrolled as a Ph.D. student at the School of Arts and Aesthetics at the Jawahar Lal Nehru University in Delhi. His academic writing has been published in various journals including Bioscope and Widescreen.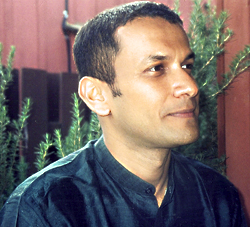 Professor Bhaskar Sarkar
Bhaskar Sarkar is a professor at the UCSB Department of Film and Media Studies. His primary research interests include risk and speculative media; post-colonial media theory; political economy of global media; and history and memory. Sarkar is the author of Mourning the Nation: Indian Cinema in the Wake of Partition (Duke University Press, 2009), a critical exploration of the cinematic traces of a particular historical trauma. He is coeditor of Documentary Testimonies: Global Archives of Suffering (Routledge, 2009), and a special issue of BioScope: South Asian Screen Studies on "Indian Documentary Studies." He has published essays on philosophies of visuality, transnational media, cineplasticity, and Indian and Chinese popular cinemas in journals such as Quarterly Review of Film and Video, Rethinking History: Theory and Practice, Cultural Dynamics, Framework, and New Review of Film and Television Studies. At present, he is completing a monograph titled Cosmoplastics: Bollywood's Global Gesture, and a co-edited collection of essays, Asian Video Cultures: In the Penumbra of the Global(Duke University Press, forthcoming).
This event is sponsored by the Carsey-Wolf Center and the Department of Film & Media Studies.
CWC Docs
The Carsey-Wolf Center is committed to screening documentaries from across the world that engage with contemporary and historical issues, especially regarding social justice and environmental concerns. Documentaries allow filmmakers to address pressing issues and frame the critical debates of our time.
CWC Global
Media are global by nature; they express culture just as much as they transcend borders. The CWC Global series is dedicated to showcasing media from around the world. This series features screenings and events that place UCSB in conversation with international media makers and global contexts across our deeply connected world.