Black Hollywood: They Cloned Tyrone
Tuesday, October 10, 2023 / 7:00 PM - 9:50 PM (PDT)
Screening Format: Sony 2K digital projection (119 minutes)
With filmmaker Juel Taylor
Starring: John Boyega, Teyonah Parris, Jamie Foxx

In They Cloned Tyrone (2023), a stoic, low-rung drug dealer named Fontaine (John Boyega) stumbles on a vast and bewildering government conspiracy following a fateful encounter with a flamboyant pimp named Slick Charles (Jamie Foxx) and a sex worker named Yo-Yo (Teyonah Parris). Together, the trio works to disentangle an increasingly bizarre set of mysteries, digging through hidden laboratories, churches, and chicken shops in pursuit of the truth. The debut directorial effort from filmmaker Juel Taylor, They Cloned Tyrone freely blends sci-fi with elements of the mystery, the buddy comedy, and the crime drama, styling it all as a vibrant and energetic homage to the Blaxploitation films of the 1970s.
Filmmaker Juel Taylor joined moderator Mireille Miller-Young (Feminist Studies, UCSB) for a post-screening discussion of They Cloned Tyrone.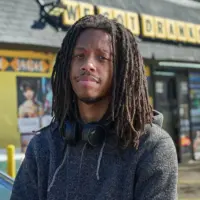 Filmmaker Juel Taylor
Filmmaker Juel Taylor is a writer/director from Tuskegee, Alabama, who marked his directorial debut with the smash hit They Cloned Tyrone. The film, which he also co-wrote and produced, opened this year's American Black Film Festival; Taylor has since received rave reviews for his ability to generate original, thought-provoking storylines that push boundaries. Before making his directorial debut, Juel, alongside Tony Rettenmaier, wrote the screenplay for Michael B. Jordan's boxing drama Creed II and the comedy Space Jam: A New Legacy, starring LeBron James. Through his collaborations with highly-regarded talent in the industry, Juel has been able to nurture his creative relationships and elevate his filmmaking to new heights. After receiving his Film Production MFA from USC's School of Cinematic Arts, he stumbled into a career in screenwriting, and managed to avoid homelessness in LA's overpriced housing market.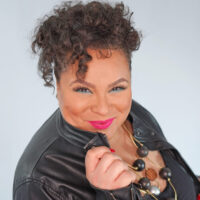 Moderator Mireille Miller-Young
Mireille Miller-Young is Associate Professor of Feminist Studies at UCSB. The former UC President's Postdoctoral Fellow researches and teaches about race, gender, and sexuality in US history, popular and film cultures, and the sex industries. Her groundbreaking book, A Taste for Brown Sugar: Black Women in Pornography (Duke University Press, 2014), was awarded the Sara A. Whaley Prize for Best Book on Women and Labor by the National Women's Studies Association and the John Hope Franklin Prize for Best Book by the American Studies Association. Serving on the editorial boards of journals like Porn Studies and Signs, as well as book series like Screening Sex (Edinburgh University Press) and Feminist Media Studies (University of Illinois Press), Miller-Young has won prizes for her research and teaching, including UCSB's Distinguished Teaching Award.
This event is sponsored by the Carsey-Wolf Center as part of its Black Hollywood series.

Black Hollywood
Black Hollywood is a new programming focus at the Carsey-Wolf Center at UC Santa Barbara, guest curated by Dr. Mireille Miller-Young (Department of Feminist Studies). Black Hollywood innovates new academic research and public-facing engagement projects focusing on the work of Black creators and technicians, as well as the histories of Black artists and stories. Addressing issues ranging from diversity in entertainment industry labor, to representations of race, gender, and intersectional identities, to questions of technology, democracy and law, Black Hollywood provides a platform for cutting edge questions, conversations, and tools for media professionals, academics, and wider publics.
Storytelling for the Screen
Since their emergence, cinema and television have been in a state of constant technological and industrial flux. But even as our ways of distributing and accessing moving images have changed, and even as tastes and styles continue shifting with the times, our passion for compelling onscreen storytelling persists. At the Carsey-Wolf Center, we are committed to fostering a nuanced understanding of cinematic and televisual storytelling across genres, formats, styles, and historical periods. To this end, we sponsor a wide range of events, programs, and workshops designed to cultivate a new generation of media storytellers, and to help audiences better understand the evolving role of narrative across diverse media forms.