Black Hollywood: The Woman King
Tuesday, February 28, 2023 / 7:00 PM - 10:30 PM (PST)
Screening Format: Sony 4K digital projection (135 minutes)
With Akin McKenzie (production designer)
Director: Gina Prince-Bythewood


Starring: Viola Davis, Thuso Mbedu, Lashana Lynch
Directed by Gina Prince-Bythewood, The Woman King (2022) is a historical action-epic that chronicles the conflicts of the West African Kingdom of Dahomey amidst the brutal African slave trade in the 1800s. Viola Davis stars as General Nanisca, a fierce and powerful leader who trains the Agojie, an elite, all-female unit of warriors tasked with protecting Dahomey and liberating those abducted by slavers from the rival Oyo Empire. Prince-Bythewood and production designer Akin McKenzie vividly realize this overlooked chapter of history through extensive research from out-of-print books, photos, and other archival materials to disentangle complex historical events from colonial revisionism. With large-scale battle sequences and a robust supporting cast including Thuso Mbedu, Lashana Lynch, Sheila Atim, and John Boyega, The Woman King allows this unsung history of female warriors to roar to life on a blockbuster scale.
Production designer Akin McKenzie joined moderator Mireille Miller-Young (Feminist Studies, UCSB) for a post-screening discussion of his work in creating the visual style of The Woman King.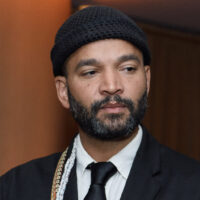 Production designer Akin McKenzie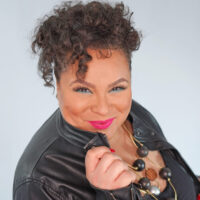 Moderator Mireille Miller-Young (Feminist Studies, UCSB)
Mireille Miller-Young is Associate Professor of Feminist Studies at UCSB.  The former UC President's Postdoctoral Fellow researches and teaches about race, gender, and sexuality in US history, popular and film cultures, and the sex industries.  Her groundbreaking book, A Taste for Brown Sugar: Black Women in Pornography (Duke University Press, 2014), was awarded the Sara A. Whaley Prize for Best Book on Women and Labor by the National Women's Studies Association and the John Hope Franklin Prize for Best Book by the American Studies Association. Serving on the editorial boards of journals like Porn Studies and Signs, as well as book series like Screening Sex (Edinburgh University Press) and Feminist Media Studies (University of Illinois Press), Miller-Young has won prizes for her research and teaching, including UCSB's Distinguished Teaching Award.
Dr. Miller-Young has published in numerous anthologies, academic journals, and news outlets including Porn Archives, Queer Sex Work, Ethnopornography, Sexualities, Meridians, GLQ, Colorlines, Ms., The Washington Post, The New York Times, and $pread, a sex worker magazine. A sought-after speaker and expert for news, radio, podcasts, and documentaries, Miller-Young has been featured in NPR's Marketplace, The Kitchen Table Podcast, HuffPost Live, For Harriet, Cosmopolitan, Glamour, Netflix's Explained, and the recent hit, Netflix's History of Swear Words, starring Nicolas Cage.
 This event is sponsored by the Carsey-Wolf Center.
Black Hollywood
Black Hollywood is a new programming focus at the Carsey-Wolf Center at UC Santa Barbara, guest curated by Dr. Mireille Miller-Young (Department of Feminist Studies). Black Hollywood innovates new academic research and public-facing engagement projects focusing on the work of Black creators and technicians, as well as the histories of Black artists and stories. Addressing issues ranging from diversity in entertainment industry labor, to representations of race, gender, and intersectional identities, to questions of technology, democracy and law, Black Hollywood provides a platform for cutting edge questions, conversations, and tools for media professionals, academics, and wider publics.
CWC Presents: Big Screen
The movie theater has always been a space of wonder and anxiety. Since the inception of the cinema, audiences have enjoyed the collective experience of viewing a film on the big screen, but fears of contagion and disease have undercut that pleasure since the cinema's earliest years. In our current moment, closures of international festivals and competition with streaming platforms have significantly altered the film industry. The Carsey-Wolf Center's "Big Screen" series at the Pollock Theater will explore this tension as we welcome cinemagoers back to the theater. The series will spotlight films made to be seen on the big screen, including works that are rarely seen in North America, as well as classical Hollywood films. This series will recall those early cinemagoers who first marveled at early moving pictures or new technologies like Cinerama and CinemaScope, and invite conversations with scholars and filmmakers about their varied, personal, and unexpected experiences with the big screen.