Big Screen: Encanto
Saturday, May 6, 2023 / 2:00 PM - 4:20 PM (PDT)
Screening Format: Sony 4K digital projection (102 minutes)
With Yvett Merino (producer)
The sixtieth film produced by Walt Disney Animation Studios, Encanto tells the story of the Madrigals, a multigenerational family blessed with magical powers generated by their enchanted home. Life in their rural community, hidden in the mountains of Colombia, seems perfect until young Mirabel Madrigal (Stephanie Beatriz) discovers that her family members are secretly losing their powers. Determined to uncover the mysteries behind her family's complicated history, Mirabel sets out to find a way to reignite their powers and restore her home to its former glory. A critical and commercial hit, Encanto won Best Animated Feature at the Academy Awards and boasts a Billboard chart-topping soundtrack with original songs by Lin-Manuel Miranda. Its magical realist narrative and exploration of intergenerational trauma come to life with rich, vibrant animation and joyous musical numbers.
Producer and UCSB alumnus Yvett Merino joined moderator Dolores Inés Casillas (Chicana and Chicano Studies, UCSB) for a post-screening discussion of Encanto.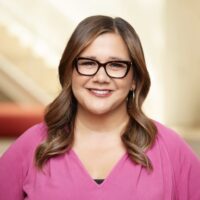 Producer Yvett Merino
Yvett Merino (Producer, Walt Disney Animation Studios) is the Academy Award-winning producer of Encanto, and the first Latina to receive the Oscar for Best Animated Feature. Merino first arrived at Walt Disney Animation Studios more than 25 years ago, and has worked in a variety of production capacities on some of the most popular animated features of all time. Among her most recent credits, she served as production manager on the Oscar-winning feature Big Hero 6, as well as the Oscar-nominated Moana. Launching her Disney Animation career in the technology department, she moved into the world of production as a supervisor on Tangled, The Lion King 3D, and Wreck-It Ralph.
Merino was also a part of the team that started Voces@Disney, the Studio's first Latinx employee resource group, where she served as co-president for two years. Merino lives in Los Angeles with her family. She holds an MBA from Loyola Marymount University and an undergraduate degree in Sociology from the University of California, Santa Barbara.
Photo: Mat Freschel for Disney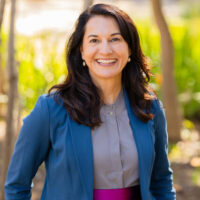 Moderator Dolores Inés Casillas (Chicana and Chicano Studies, UCSB)
Dolores Inés Casillas is Professor of Chicana and Chicano Studies and Director of the Chicano Studies Institute (CSI) at the University of California, Santa Barbara. She is the author of Sounds of Belonging: U.S. Spanish-language Radio and Public Advocacy (NYU Press, 2014), which received two book prizes, and co-editor with María Elena Cepeda (Williams College) of the Companion to Latina/o Media Studies (Routledge Press, 2016) and co-editor with Mary Bucholtz and Jin Sook Lee (UC Santa Barbara) of Feeling It: Language, Race and Affect in Latinx Youth Learning (Routledge Press, 2018). Her current manuscript explores the politics of language learning and language play as heard through different media technologies.
This event is sponsored by the Carsey-Wolf Center.
CWC Presents: Big Screen
The movie theater has always been a space of wonder and anxiety. Since the inception of the cinema, audiences have enjoyed the collective experience of viewing a film on the big screen, but fears of contagion and disease have undercut that pleasure since the cinema's earliest years. In our current moment, closures of international festivals and competition with streaming platforms have significantly altered the film industry. The Carsey-Wolf Center's "Big Screen" series at the Pollock Theater will explore this tension as we welcome cinemagoers back to the theater. The series will spotlight films made to be seen on the big screen, including works that are rarely seen in North America and classical Hollywood films. This series will recall those early cinemagoers who first marveled at early moving pictures or new technologies like Cinerama and CinemaScope, and invite conversations with scholars and filmmakers about their varied, personal, and unexpected experiences with the big screen.