Anthropocene: The Human Epoch
Tuesday, March 10, 2020 / 7:30 PM - 10:00 PM (PDT)
Screening Format: 4K Digital Projection (87 Minutes)
With Jennifer Baichwal (director/writer)
Co-directors: Jennifer Baichwal, Nicholas de Pencier, and Edward Burtynsky


Narrator: Alicia Vikander
A cinematic meditation on humanity's massive reengineering of the planet, Anthropocene: The Human Epoch (2019) concludes a trilogy of films that began with Manufactured Landscapes (2006) and continued with Watermark (2013). The film follows the research of an international body of scientists, the Anthropocene Working Group who, after nearly ten years of analysis and investigation, argue that the Holocene Epoch gave way to the Anthropocene Epoch in the mid-twentieth century as a result of profound and lasting human changes to the Earth. From concrete seawalls in China that now cover 60% of the mainland coast, to the biggest terrestrial machines ever built in Germany, to psychedelic potash mines in Russia's Ural Mountains, to metal festivals in the closed city of Norilsk, to the devastated Great Barrier Reef in Australia, and massive marble quarries in Carrara, the filmmakers traversed the globe with the newest cinematographic technology to document the evidence and experience of human planetary domination. Situated at the intersection of art and science, Anthropocene bears witness to a critical moment in geological history, offering a provocative and unforgettable record of our species' impact. This event is presented in conjunction with UCSB Reads 2020.
Director and writer Jennifer Baichwal joined moderator Alenda Chang (Film and Media Studies, UCSB) for a post-screening discussion.
Please note delayed start time for this event.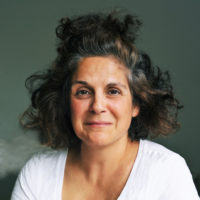 Director/Writer Jennifer Baichwal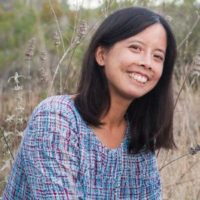 Moderator Alenda Chang
Alenda Chang is an Associate Professor in Film and Media Studies at UC Santa Barbara. With a multidisciplinary background in biology, literature, and film, she specializes in merging ecocritical theory with the analysis of contemporary media. Her writing has been featured in Ant Spider Bee, Interdisciplinary Studies in Literature and Environment, Qui Parle, the Journal of Gaming & Virtual Worlds, and Ecozon@, and her first book Playing Nature: Ecology in Video Games develops ecological frameworks for understanding and designing digital games. Along with Film and Media Studies professor Laila Shereen Sakr, Chang is the co-founder of the digital media studio Wireframe. Wireframe was established to support collaborative and cutting-edge research and teaching in new media, with an emphasis on global human rights, social justice, and environmental concerns. The studio provides a space for production and critical engagement across media including games, data visualization, installation art, virtual/augmented reality, projection mapping, performance and installation, livestreaming, 3D modeling, mobile apps, and social media.
 This event is sponsored by the Carsey-Wolf Center and the UCSB Arts & Lectures Thematic Learning Initiative. Presented in conjunction with the UCSB Library's 2020 UCSB Reads Program.

CWC Docs
The Carsey-Wolf Center is committed to screening documentaries from across the world that engage with contemporary and historical issues, especially regarding social justice and environmental concerns. Documentaries allow filmmakers to address pressing issues and frame the critical debates of our time.
CWC Global
Media are global by nature; they express culture just as much as they transcend borders. The CWC Global series is dedicated to showcasing media from around the world. This series features screenings and events that place UCSB in conversation with international media makers and global contexts across our deeply connected world.