CWC Virtual: And She Could Be Next
Thursday, July 30, 2020 / 7:00 PM - 8:00 PM (PDT)
With Grace Lee (Director/Producer) and Marjan Safinia (Director/Producer)

Documentary subjects: Stacey Abrams, Bushra Amiwala​, ​Maria Elena Durazo, ​Veronica Escobar​,​ Lucy McBath​, ​Rashida Tlaib, and ​Nse Ufot
The two-part documentary series And She Could Be Next (2020) tells the story of a defiant movement of women of color who are transforming politics from the ground up. The series follows candidates and organizers across the country, asking whether U.S. democracy can be preserved and made stronger by those most marginalized. Directed by Grace Lee and Marjan Safinia, the series was filmed during 2018 and 2019. It centers on those at the heart of the movement behind the New American Majority, including ​Stacey Abrams ​(Georgia), Bushra Amiwala​ (Skokie, IL), ​Maria Elena Durazo ​(Los Angeles, CA), ​Veronica Escobar​ (El Paso, TX),​ Lucy McBath​ (Atlanta, GA), ​Rashida Tlaib ​(Detroit, MI) and ​Nse Ufot, ​Executive Director of the New Georgia Project. ​And She Could Be Next​ features an entirely women of color creative team.
Director/producers Grace Lee and Marjan Safinia joined moderator Wendy Eley Jackson (Film and Media Studies, UCSB) for a Zoom discussion of their groundbreaking documentary work. The two episodes of the series are currently airing on PBS and can be streamed for free until August 31 on the official series website: https://www.andshecouldbenext.com.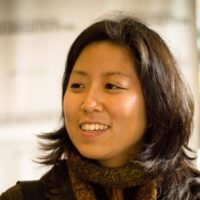 Director/Producer Grace Lee
Grace Lee directed and produced the Peabody Award-winning American Revolutionary: The Evolution of Grace Lee Boggs, about the legendary civil rights activist, which ​The Hollywood Reporter​ called "an entertainingly revealing portrait of the power of a single individual to effect change." The film won multiple festival audience awards and was broadcast on the PBS documentary series POV. Other directing credits include the Emmy-nominated Makers: Women in Politics for PBS; the interactive online documentary K-Town '92 about the 1992 Los Angeles civil unrest, Off the Menu: Asian America; and the feature film Janeane from Des Moines, set during the 2012 presidential campaign, which premiered at the Toronto Film Festival. She recently directed and produced two episodes of PBS' five-part series Asian Americans. She has been a Sundance Institute Fellow, a 2017 Chicken & Egg Breakthrough Award winner, an envoy of the American Film Showcase and is co-founder of the Asian American Documentary Network.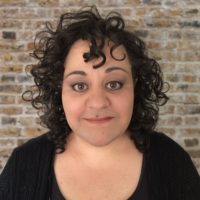 Director/Producer Marjan Safinia
Marjan Safinia is an Iranian documentary filmmaker whose films examine identity, community and social justice. But You Speak Such Good English explores the first-generation immigrant experience from an insider perspective. Seeds tells the story of ten brave teenagers from the world's most troubled conflict zones living side-by-side for one life-changing summer. Collectively her films have played at over 100 international film festivals and been broadcast in North America, Europe and across the Arab world. Most recently she produced and directed work for Google Founder Sergey Brin, the Obama administration, and Hillary Clinton's Next Generation. Until 2018, Marjan was the longest-serving President of the Board of Directors of the International Documentary Association (and the only woman of color to lead this organization since it was founded in 1982). She currently serves on the Board of Directors of Chicken & Egg. She co-hosts the pre-eminent online documentary community, The D-Word, and is a regular juror, programmer, speaker and connector of all things documentary.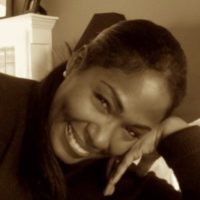 Moderator Wendy Eley Jackson (Film and Media Studies, UCSB)
Wendy Eley Jackson has over 25 years experience in film and television. She founded the Atlanta-based company Golden Street Entertainment, where she owned and operated one of the largest faith-based post-production facilities in the USA, overseeing editorial work for 20 shows each week. In 2015, she founded Auburn Avenue Films and began working with award-winning directors and producers such as Academy Award nominee and multiple Emmy winner Sam Pollard, Daphne McWilliams, and Henry Adebonojo. For her motion picture work, she has recently received the Producers Guild of America mark for the multi-award winning documentary Maynard for Netflix. She is producing a docu-series entitled The Election of Stacey Abrams with mega-producer Malcolm D. Lee and showrunner Holly Sorensen. Along with Holly Sorenson, Vicangelo Bulluck, and A.J. Morewitz, she is developing a television series adapted from the New York Times best-seller Where Peachtree Meets Sweet Auburn for DIGA Studios. She is currently a Lecturer in Film and Media Studies at the UCSB. Wendy is a board member for Women In Film Atlanta, Atlanta Film Society, BronzeLens Film Festival, and the National Association for Television Arts and Sciences.
This event is sponsored by the Carsey-Wolf Center. 
CWC Docs
The Carsey-Wolf Center is committed to screening documentaries from across the world that engage with contemporary and historical issues, especially regarding social justice and environmental concerns. Documentaries allow filmmakers to address pressing issues and frame the critical debates of our time.