CWC Docs: A Thousand Cuts
Thursday, April 20, 2023 / 7:00 PM - 9:45 PM (PDT)
Screening Format: Sony 2K digital projection (99 Minutes)
With Ramona S. Diaz (director)
A Thousand Cuts follows Filipino-American journalist Maria Ressa, co-founder and CEO of online news site Rappler and a recipient of the 2021 Nobel Peace Prize. The documentary explores her fight against journalistic persecution in the Philippines during the administration of former Philippine President Rodrigo Duterte. Known for her decades of investigative work in the Philippines and for her recent efforts in combating fake news, Ressa has been subject to intense scrutiny by Duterte and his supporters, leading to a controversial arrest in 2019 for cyberlibel.
A Thousand Cuts documents the events leading up to Ressa's arrest and later conviction, as well as the targeted harassment of fellow Rappler reporters including Pia Rañada, Patricia Evangelista, and Rambo Talabong. The documentary also charts the senatorial campaigns of incendiary nationalist Bato dela Rosa and online troll Mocha Uson, as well as that of civic leader and activist Samira Gutoc. In telling these stories, A Thousand Cuts explores the worldwide erosion of press freedoms, the emergence of social media disinformation campaigns, and the threats posed by authoritarian governments to democracy and our very sense of truth.
Director Ramona S. Diaz joined moderator Miguel Penabella (Film and Media Studies, UCSB) for a post-screening discussion of A Thousand Cuts.
This special screening is presented in association with the UCSB Arts & Lectures event "Maria Ressa: How to Stand Up to a Dictator," scheduled for Thursday, May 18 at Campbell Hall.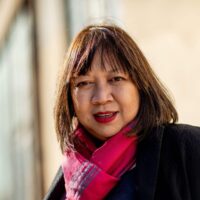 Director Ramona S. Diaz
Ramona S. Diaz is a Peabody, Gotham, IDA, and Emmy award-winning Asian American filmmaker best known for her character-driven documentaries that combine a profound appreciation for cinematic aesthetics and potent storytelling. Her films include Imelda (Sundance Film Festival, Excellence in Cinematography Award, 2004), Motherland (Independent Spirit Awards, Best Documentary Nominee, 2017), and A Thousand Cuts (Frontline, 2020). All have been screened and won awards at Sundance, Berlin, Busan, HotDocs, IDFA, and many other top-tier film festivals. Diaz is both a Guggenheim and a United States Artists Fellow.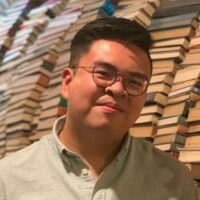 Moderator Miguel Penabella (Film and Media Studies, UCSB)
Miguel Penabella is a PhD candidate in Film and Media Studies at the University of California, Santa Barbara. His research examines conspiracy, spectrality, and melancholia as theoretical frameworks for analyzing questions of historical revisionism and national cinema in the Philippines, in a dissertation titled Conspiratorial Thinking from Marcos to Duterte. He is also interested in theorizations of cinematic temporality and slowness. He is a member of the Media Fields editorial collective, where he serves as coordinating editor.
This event is sponsored by the Carsey-Wolf Center.
CWC Docs
The Carsey-Wolf Center is committed to screening documentaries from across the world that engage with contemporary and historical issues, especially regarding social justice and environmental concerns. Documentaries allow filmmakers to address pressing issues and frame the critical debates of our time.
CWC Global
Media are global by nature; they express culture just as much as they transcend borders. The CWC Global series is dedicated to showcasing media from around the world. This series features screenings and events that place UCSB in conversation with international media makers and global contexts across our deeply connected world.