7 Islands and a Metro
Wednesday, November 16, 2016 / 7:00 PM (PST)
Screening Format: Quicktime (100 Minutes)
With Madhusree Dutta (Director)
7 Islands and a Metro (2006) is a tale of the cities of Bom Bahia / Bombay / Mumbai, presented through a tapestry of fiction, cinema vérité, art objects, found footage, sound installation and literary texts, chronicling the transformations of an insignificant settlement as it achieved the stature of a metropolis. The film's narrative is structured around imaginary debates between Ismat Chugtai and Sadat Hasan Manto—two legendary writers who lived in this metropolis—over the art that chronicles these multi-layered overlapping cities. Shot mainly during the monsoon, 7 Islands and a Metro portrays beautiful, yet ruthlessly violent features of Bombay which, generally, are not part of the popular narratives about the city.
This film has been commercially released in theatres in Calcutta and Bombay, a pioneering event in the history of non-fiction film in India.
We were joined for a post-screening discussion and Q&A with Director Madhusree Dutta and Bhaskar Sarkar (Film and Media Studies, UCSB).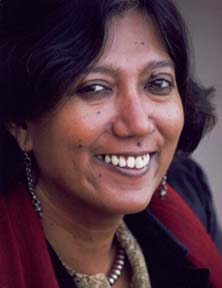 Director Madhusree Dutta

Madhusree Dutta is a filmmaker, art producer, and curator based in Mumbai, India. Her films, which broadly engage with identity, urbanity, and moving people, are extensively screened all over the world and are taught as texts in university departments of Cultural Studies, Development Studies, Urban Studies, Women's Studies and Sociology. Madhusree has received three National Awards, Filmfare Award and several international awards for her films. She relinquished her national awards in 2015 in protest against state sponsored cultural intolerance.
Madhusree's curatorial works include Expression, the first women's arts festival in India in 1990. Majlis, a Centre for Multi-disciplinary Arts Initiative in Mumbai, emerged out of this festival. Madhusree was the executive director of Majlis until 2015. Her curatorial works include Culture@World Social Forum (2004 in Mumbai, 2005 in Porte Alegre, Brazil, and 2007 in Nairobi) as well as Import Export: Cultural Transfer between India and German Speaking Europe, a European Union project (2005), and Project Cinema City: Research Art and Documentary Practices, a disciplinary interface between cinema, visual arts, architecture and urban planning (2008-2014). The project engages around 100 artists of different registers.
Madhusree's publications include The Nation, the State and Indian Identity, (co-editor, 1996), Sites and Practices: an Exercise in Cultural Pedagogy, (co-editor, 2006), dates.sites: Bombay / Mumbai (2012), a narrativised timeline of the cinema city Bombay / Mumbai, (co-designed with Shilpa Gupta), and Project Cinema City (2013), an anthology on the city and its cinema (co-edited with Kaushik Bhaumik and Rohan Shivkumar).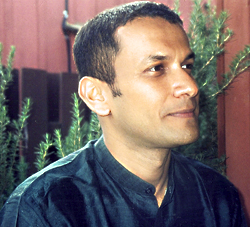 Moderator Bhaskar Sarkar
Bhaskar Sarkar is a professor at the UCSB Department of Film and Media Studies. His primary research interests include risk and speculative media; post-colonial media theory; political economy of global media; and history and memory. Broadly speaking, his work addresses questions of modernity and community, imagination and participation, paying close attention to the institutions, circuits, and practices constituting global media assemblages.
Sarkar is the author of Mourning the Nation: Indian Cinema in the Wake of Partition (Duke University Press, 2009), a critical exploration of the cinematic traces of a particular historical trauma. He is coeditor of Documentary Testimonies: Global Archives of Suffering (Routledge, 2009), and a special issue of BioScope: South Asian Screen Studies on "Indian Documentary Studies." He has published essays on philosophies of visuality, transnational media, cineplasticity, and Indian and Chinese popular cinemas in journals such as Quarterly Review of Film and Video, Rethinking History: Theory and Practice, Cultural Dynamics, Framework, and New Review of Film and Television Studies. At present, he is completing a monograph titled Cosmoplastics: Bollywood's Global Gesture, and a co-edited collection of essays, Asian Video Cultures: In the Penumbra of the Global (Duke University Press, forthcoming). He has also begun work on a monograph on the potentiations of piratical practices; a second monograph on queer underground club cultures in millennial Los Angeles, and a coedited volume of essays on the mediality of risk.
Sarkar has also co-edited a special issue of The Journal of Postcolonial Studies on "The Subaltern and the Popular," anthologizing the proceedings from a 2004 conference. That conference provided the impetus for a multi-year research project involving scholars from multiple UC campuses and other research institutions. More recently, he has been involved in another collaborative research project, "Speculative Globalities," which explores uncertainty as both a productive and a critical logic informing globalization. In connection with this project, he has been a fellow in residency at Cornell University's Society for the Humanities, and at the University of California Humanities Research Institute, Irvine.
This event is sponsored by the Carsey-Wolf Center and the Department of Film & Media Studies.
CWC Docs
The Carsey-Wolf Center is committed to screening documentaries from across the world that engage with contemporary and historical issues, especially regarding social justice and environmental concerns. Documentaries allow filmmakers to address pressing issues and frame the critical debates of our time.
CWC Global
Media are global by nature; they express culture just as much as they transcend borders. The CWC Global series is dedicated to showcasing media from around the world. This series features screenings and events that place UCSB in conversation with international media makers and global contexts across our deeply connected world.