Workshop: Lane Hall
Tuesday, February 28, 2017 / 12:00 PM - 3:00 PM (PST)
With Lane Hall
Lane Hall (Overpass Light Brigade and Professor of English, University of Wisconsin-Milwaukee) discussed the work of the Overpass Light Brigade (overpasslightbrigade.org), an activist collaborative public art project that he co-founded in Milwaukee, and which has since gone viral worldwide. His talk was followed by a workshop in which participants constructed signs like those used by the Overpass Light Brigade.
This workshop was presented in conjunction with the screening of the documentary Starving the Beast (dir. Mims, 2016).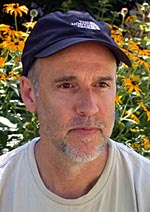 Professor Lane Hall

Lane Hall is a Professor of English at the University of Wisconsin-Milwaukee. He is a multi-media artist and writer and has been active in the recent political struggles in Wisconsin including artistic activism at both street and academic levels. He is co-founder of the Overpass Light Brigade (OLB), which focuses on regional social justice struggles and broader collaborations and campaigns, and has appeared on numerous political blogs and websites. His collaborative art installations have been exhibited at the Brooklyn Museum, The Milwaukee Art Museum, the California Academy of Sciences, the Shanghai World Expo, the Field Museum, The Science Gallery in Dublin, and Eyebeam in NYC. His current work focuses on narratives of scarcity, privatization, and access.
This event was sponsored by the Carsey-Wolf Center, the UCSB Faculty Association, the Department of Art, and the IHC's Community Matters series.