Women In Comedy: Two Silent Classics
Tuesday, May 22, 2018 / 7:00 PM - 8:30 PM (PDT)
Screening Format: DVD (73 minutes)
With Michael Mortilla (Pianist)
Won in a Cupboard, directed by Mabel Normand (1914, 13 minutes)


The Oyster Princess, directed by Ernst Lubitsch (1919, 60 minutes)
In celebration of the roles of women in film comedy, the Carsey-Wolf Center was proud to present a pair of classic short films from the silent period—Won in a Cupboard (1914) and The Oyster Princess (1919)—with live piano accompaniment by Michael Mortilla.
Won in a Cupboard is the earliest extant film directed by Mabel Normand, the great silent film comedian, producer, and writer-director. Centering on a pair of young lovers, their parents, and a case of mistaken identity, the film showcases Normand's gift for physical comedy and her interest in cinematic innovation.
In Lubitsch's The Oyster Princess (Die Austernprinzessin), a spoiled American heiress (Ossi Oswalda) seeks the hand of impoverished German prince (Harry Liedtke). The cautious prince sends his friend Josef (Julius Falkenstein) to check out Ossi before he commits, but complications ensue when Josef takes a liking to her….
This event is free but a reservation is recommended in order to guarantee a seat.
Tickets will be released on May 1st at 11:00 AM.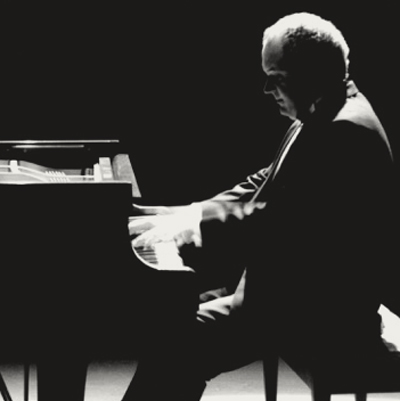 Pianist Michael Mortilla
Michael Mortilla is a freelance composer and sound designer. His accomplishments include performing his own works as a piano soloist with the Chicago Symphony, composing for the 1996 Olympic Games, and scoring the world's first broadcast of a film with sound over the internet (AFI/The Rink, 1977). He has received multiple commissions for new works from institutions such as the Library of Congress, The Academy of Motion Pictures, and The National Film Preservation Foundation. Mortilla was resident composer and faculty in UCSB's Theater and Dance department from 1986 to 2000. He has guest lectured on music and sound design for film and animation at CalArts.
This event is sponsored by the Carsey-Wolf Center. Special thanks to David Wells and the National Film Preservation Foundation for permission to screen Won in a Cupboard.

Women in Comedy
The CWC series "Women in Comedy" showcases the achievement of women in American film and television comedy. At a time when comedy across all media remains dominated by men, female comedians have achieved unprecedented visibility as artists, writers, producers, and performers. Women comedians have produced enduring works of humor as a means of self-expression, artistic innovation, and political intervention. The Carsey-Wolf Center aims to highlight some of the best of this work, and to feature in-depth discussions with guests that include scholars and participants in the creative process.
CWC Classics

The CWC Classics program celebrates cinema's rich history, bringing classic films back to the big screen for critical viewing and discussion. These events feature filmmakers, academics, and professionals who can contextualize the production and historical impact of the films. The series occasionally presents classic films in their original 16 or 35 mm formats. CWC Classics events celebrate the history and significance of cinema's enduring legacy.