Upstream
Thursday, February 21, 2019 / 7:00 PM - 8:10 PM (PST)
Screening Format: DCP (60 minutes)
With Michael Mortilla (composer/pianist), Nicole Garcia (violin/percussion), and Frank Macchia (mixed woodwinds)
Director: John Ford


Starring: Earle Foxe, Grant Withers, and Lydia Yeamans Titus
Upstream (1927) strays far from director John Ford's classic Western landscapes. Centered on an eclectic mix of stage actors, knife-throwers, and vaudevillians, Upstream is a backstage comedy set in a busy New York boardinghouse. Tensions arise after a member of the household, a pretentious thespian named Eric Brashingham (Earle Fox) is summoned to London to perform Hamlet. Upon his return, he meets with rejection from his former friends. Less than twenty percent of Ford's silents survive, and for decades Upstream was mourned as a lost film. The 2009 rediscovery of an Upstream print in the New Zealand Film Archive delighted cinephiles and archivists around the globe.
Upstream will be presented with live musical accompaniment. Pianist and composer Michael Mortilla will perform his original score with Nicole Garcia (violin/percussion) and Frank Macchia (mixed woodwinds).

This event is free but a reservation is recommended in order to guarantee a seat.
Tickets will be released on Thursday, January 31, at 11:00 AM.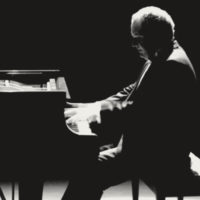 Michael Mortilla (composer/pianist)
Michael Mortilla is a freelance composer and sound designer. His accomplishments include performing his own works as a piano soloist with the Chicago Symphony, composing for the 1996 Olympic Games, and scoring the world's first broadcast of a film with sound over the internet (AFI/The Rink, 1977). He has received multiple commissions for new works from institutions such as the Library of Congress, The Academy of Motion Pictures, and The National Film Preservation Foundation. Mortilla was resident composer and faculty in UCSB's Theater and Dance department from 1986 to 2000. He has guest lectured on music and sound design for film and animation at CalArts. Mortilla has played his scores for multiple Pollock Theater screenings, including Blackmail and The Last Laugh.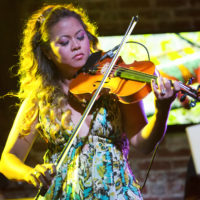 Nicole Garcia (violin/percussion)
Nicole Garcia currently lives, records, and produces in Los Angeles, CA. She has recently performed with rapper Eminem at the 2018 Coachella Music Festival, on the 2018 Oscars for the performance of "This Is Me" from The Greatest Showman, on the new album by soul legends The Temptations, and in the pit for Aladdin at The Pantages. She has performed with artists such as Michael Jackson, Beyoncé, Alicia Keys, and Will.I.Am, and has appeared on American Idol, Ellen, The Tonight Show, Late Night with Conan O'Brien, Curb Your Enthusiasm, and The Voice. She has toured with Kanye West and Drake, and performed at the Grammys with artists such as Justin Timberlake, Nicki Minaj, and Rihanna. She also has played on the score of videogames including Resident Evil 7, God of War III, and Fortnite.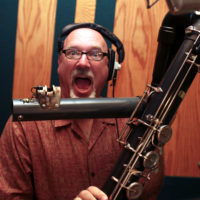 Frank Macchia (mixed woodwinds)
Frank Macchia was born San Francisco, CA and attended Berklee College of Music, studying woodwinds with Joseph Viola and composition with Herb Pomeroy. He received a National Endowment Grant for the Arts in 1980 to compose a 90-minute suite for large ensemble. Since 1992 he has worked as an orchestrator on over 450 films and television projects and was the arranger for the Tonight Show Band. From 2003 to 2014 he produced 13 jazz albums for various ensembles. Three of his CDs have been nominated for Grammy awards: Emotions (2007), Landscapes (2008), and Folk Songs for Jazzers (2010). His newest album Rhythm Kaleidoscope is available now at his website, www.frankmacchia.net.
CWC Classics
The CWC Classics program celebrates cinema's rich history, bringing classic films back to the big screen for critical viewing and discussion. These events feature filmmakers, academics, and professionals who can contextualize the production and historical impact of the films. The series occasionally presents classic films in their original 16 or 35 mm formats. CWC Classics events celebrate the history and significance of cinema's enduring legacy.