Shakespeare on Film: Haider
Thursday, January 25, 2018 / 7:00 PM - 10:15 PM (PST)
Screening Format: Blu-ray (162 minutes)
With Priya Jaikumar (Cinema and Media Studies, USC)
Director: Vishal Bhardwaj


Starring: Shahid Kapoor & Tabu
In this final installment of his trilogy of Shakespeare adaptations, Vishal Bhardwaj reimagines Shakespeare's Hamlet as a contemporary crime drama. Haider, a young student and poet, returns home to Kashmir on receiving news of his father's disappearance. Not only does he learn that security forces have detained his father on charges of harboring militants, but that his mother is having an affair with her brother-in-law. Haider's discovery that his treacherous uncle was actually responsible for his father's gruesome murder propels him into a quest for vengeance.
Priya Jaikumar (Cinema and Media Studies, USC) joined Bhaskar Sarkar (Film and Media Studies, UCSB) for a post-screening discussion.
Professor Priya Jaikumar (Cinema and Media Studies, USC)
Priya Jaikumar is a historian and theorist of colonial and postcolonial cinemas. She has written on Hindi and Tamil language films, comparative modernities and aesthetics, place and space in film and media, film and cultural geography, and transnational feminism. Jaikumar is author of Cinema at the End of Empire: A Politics of Transition in Britain and India (Duke, 2006), and of several essays and book chapters appearing in academic publications such as Cinema Journal, The Moving Image, Post Script, Screen, Hollywood Abroad, Positions, Empire and Film, Silent Cinema and the Politics of Space, and the Routledge Companion to Cinema and Gender. At USC's School of Cinematic Arts, she teaches graduate seminars and undergraduate courses in international sound cinema, film aesthetics, genre studies, critical space studies, postcolonial theory, stateless and migrant cinemas, and national / regional cinemas. Prior to joining academia, Jaikumar was a television reporter and print journalist in New Delhi, India, publishing her writings with The Times of India and The Indian Express, and more recently she served as a commentator and consultant for shows on NPR, Al Jazeera and Television Channel ARTE Germany.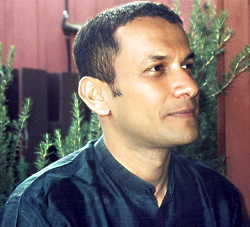 Moderator Bhaskar Sarkar
Bhaskar Sarkar is the chair of the UCSB Department of Film and Media Studies. His primary research interests include risk and speculative media; post-colonial media theory; political economy of global media; and history and memory. Sarkar is the author of Mourning the Nation: Indian Cinema in the Wake of Partition (Duke University Press, 2009), a critical exploration of the cinematic traces of a particular historical trauma. He is coeditor of Documentary Testimonies: Global Archives of Suffering (Routledge, 2009), Asian Video Cultures: In the Penumbra of the Global (Duke UP, 2017) and a special issue of BioScope: South Asian Screen Studies on "Indian Documentary Studies." He has published essays on philosophies of visuality, transnational media, cineplasticity, and Indian and Chinese popular cinemas in journals such as Quarterly Review of Film and Video, Rethinking History: Theory and Practice, Cultural Dynamics, Framework, and New Review of Film and Television Studies. At present, he is completing a monograph titled Cosmoplastics: Bollywood's Global Gesture.
This event is sponsored by the Carsey-Wolf Center and the English Department's Early Modern Center.
Shakespeare on Film
From the earliest days of cinema, screenwriters, directors, producers, and actors have taken up the challenge of translating Shakespeare's plays to the screen.  The Carsey-Wolf Center's Shakespeare on Film series will address the ongoing romance between Shakespeare and film through screenings of classic adaptations by Laurence Olivier and Orson Welles as well as more contemporary films that position Shakespeare in global contexts.
CWC Global
Media are global by nature; they express culture just as much as they transcend borders. The CWC Global series is dedicated to showcasing media from around the world. This series features screenings and events that place UCSB in conversation with international media makers and global contexts across our deeply connected world.