Script To Screen: A Beautiful Day in the Neighborhood
Saturday, January 11, 2020 / 2:00 PM - 5:00 PM (PST)
Screening Format: DCP (107 Minutes)
With Noah Harpster (UCSB alumnus, Screenwriter/Executive Producer/Actor)
Director: Marielle Heller


Starring: Tom Hanks, Matthew Rhys, Susan Kelechi Watson, Chris Cooper
Esteemed actor Tom Hanks brings cherished icon Mister Rogers back to the screen in A Beautiful Day in the Neighborhood (2019), a timely story of kindness triumphing over cynicism, based on the true story of Fred Rogers' and journalist Tom Junod's unlikely friendship. When he is tasked with profiling the children's television pioneer, jaded magazine writer Lloyd Vogel (Emmy winner Matthew Rhys) must overcome his skepticism to learn about kindness, love, and forgiveness from America's most beloved neighbor.
Screenwriter, actor, executive producer, and UCSB alumnus Noah Harpster joined moderator Matt Ryan for a post-screening discussion.
Visit this page to read the UCSB Current interview with Noah Harpster.
Screenwriter/Actor/Executive Producer Noah Harpster
Noah Harpster is a writer, actor and producer; his writing has been nominated for an Emmy award, and he is the recipient of Peabody and PEN America awards. He and his writing partner Micah Fitzerman-Blue are the writers and executive producers of A Beautiful Day in the Neighborhood. They also wrote Maleficient: Mistress of Evil, and the adaptation of Jess Walter's novel Beautiful Ruins, which is being produced by Sam Mendes for Amblin Entertainment. They spent four seasons working on Transparent for Amazon Studios.
Through their production company Blue Harp, Fitzerman-Blue and Harpster are writing and producing a limited series for Netflix and are adapting Dash Shaw's graphic novel Bottomless Bellybutton for their feature directorial debut. In addition to their own writing and directing projects, Fitzerman-Blue and Harpster are producing feature film and television projects with Amazon Studios, FX, Syfy, Lionsgate and Vice Studios. Harpster is also an actor, known mostly for playing Remy in Tig Notaro's One Mississippi. He is currently starring in the new Apple series For All Mankind. He grew up in Salinas, California, attended UCSB, and lives in LA with his wife and their two daughters.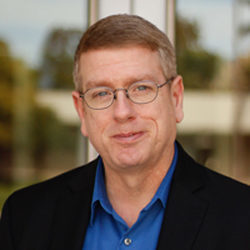 Moderator Matthew Ryan
Matthew Ryan earned his MFA in Screenwriting from Loyola Marymount University in 2008. He has been the Pollock Theater Director since the theater opened in October 2010. He created and hosts the Script to Screen series, which has welcomed prestigious guests such as writer/director/producer Jordan Peele (Get Out), writer/director Damien Chazelle (Whiplash), screenwriters Emily V. Gordon and Kumail Nanjiani (The Big Sick), and writer/director/producer David Mandel, actor Tony Hale, and actress Julia Louis-Dreyfus (VEEP).
Ryan oversees the Pollock Theater Internship, which offers industry-level experience in live multi-camera television production and event planning. TV shows produced by students through this program have generated 15.1 million online views on the UCTV cable station.
This event is sponsored by the Carsey-Wolf Center, the Department of Film & Media Studies, the Scott Frank Fund for Screenwriting, and Sony Pictures.
Script to Screen
The Script to Screen series examines the screenplay and its transition to the screen from the perspective of writers, directors, producers, editors, and actors. The Pollock Theater connects artists to our audience of aspiring production students, and Guild & Academy Members. Our Q&As transform into a television show that airs on the UCTV cable station. The series is hosted by the Pollock Theater Director, Matt Ryan, and co-produced by the Pollock Theater student staff.