Script to Screen: Back to the Future
Tuesday, June 5, 2012 / 7:00 PM (PDT)
Screening Format: DCP (116 Minutes)
With Bob Gale (Screenwriter) & Christopher Lloyd (Actor)
Director: Robert Zemeckis


Starring: Christopher Lloyd, Michael J. Fox, Lea Thompson
"Seventeen year old Marty McFly got home early last night… 30 years early."
A young man is accidentally sent thirty years into the past in a time-traveling DeLorean invented by his friend, Dr. Emmett Brown, and must make sure his high-school-age parents unite in order to save his own existence.
Starring Michael J. Fox as Marty McFly and Christopher Lloyd as the eccentric Doc Brown, Back to the Future (1985) won the Academy Award® for Best Sound Effect Editing and received multiple nominations, including Best Screenplay, Best Sound, and Best Original Song.
This Script to Screen presentation of Back to the Future was followed by a Q&A with Screenwriter Bob Gale and Actor Christopher Lloyd. The event was moderated by Pollock Theater Director Matt Ryan.
"I have never appreciated Back to the Future as much as I did tonight (at the Pollock Theater)"
–  Christopher Lloyd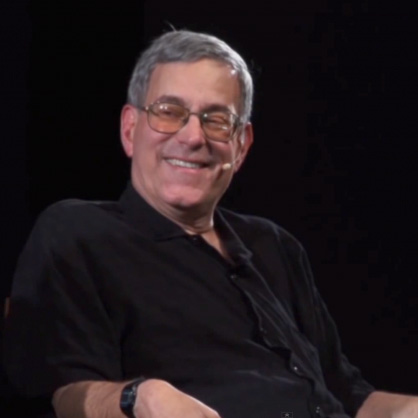 Screenwriter/Producer Bob Gale
Bob Gale is a screenwriter, producer, and film director. Creative from a young age, Gale created his own comic book as a teen and co-created film parodies with his brother before going on to receive a Bachelor's degree in Cinema from the University of Southern California. Gale and his fellow classmate, Robert Zemeckis, co-wrote several films together including 1941(1979), I Wanna Hold Your Hand (1978), Used Cars (1980), and Back to the Future. The latter earned the writing duo an Oscar nomination, and Gale continued on to write and co-produce the two sequels. He also wrote the novelization of his previous WWII comedy, 1941. Gale made his feature-film director debut in 2002 with the film Interstate 60: Episodes of the Road. In 2014, he announced a stage musical adaptation of Back to the Future was underway, which he is co-writing.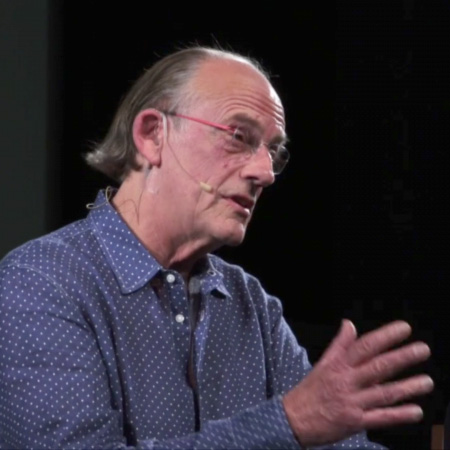 Actor Christopher Lloyd
Christopher Llyod began his career apprenticing at summer theaters in Mount Kisco, New York, and Hyannis, Massachusetts shortly before taking acting classes in New York City at the age of nineteen. His first movie role was as a psychiatric patient in One Flew Over the Cuckoo's Nest (1975), but he is well-known for his role as "Reverend" Jim Ignatowski, the ex-hippie cabbie on the TV sitcom Taxi (1978), for which he won two Primetime Emmy Awards for Outstanding Supporting Actor in a Comedy Series. His role as the the eccentric inventor Emmett "Doc" Brown in the Back to the Future trilogy of science-fiction films earned him a nomination for a Saturn Award. Other notable portrayals include Klingon Commander Kruge in Star Trek III: The Search for Spock (1984), Professor Plum in the mystery film Clue (1985), villian Judge Doom in Who Framed Roger Rabbit? (1988), and as Uncle Fester in the movie adaptations of The Addams Family (1991).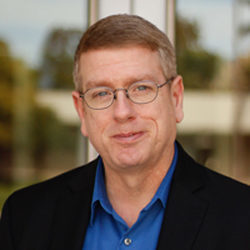 Moderator Matthew Ryan
Matthew Ryan is Director of the Pollock Theater where he pioneered the Pollock Theater Internship, which professionalizes students by developing production skills with hands-on experience. Ryan created and hosts the Script to Screen series, which has welcomed prestigious guests like Oscar® winning screenwriter John Ridley for 12 Years a Slave and Oscar® winning screenwriter Alan Ball for American Beauty.
Matthew Ryan began his career as a video librarian at the legendary Kaufman Astoria Studios. He became Associate Producer for Fox Movietone Newsreels putting together video packages for news stories. As Events Manager at New York University's Cantor Film Center, he produced a series of film programs that included evenings with Martin Scorsese, Tim Robbins and Alec Baldwin. In 2008, he received an MFA in Screenwriting from Loyola Marymount University. His primary writing focus is science fiction and comedy.
This event is sponsored by the Carsey-Wolf Center, the Department of Film & Media Studies, and the Scott Frank Fund for Screenwriting. 
Script to Screen
The Script to Screen series examines the screenplay and its transition to the screen from the perspective of writers, directors, producers, editors, and actors. The Pollock Theater connects artists to our audience of aspiring production students, and Guild & Academy Members. Our Q&As transform into a television show that airs on the UCTV cable station. The series is hosted by the Pollock Theater Director, Matt Ryan, and co-produced by the Pollock Theater student staff.