New Waves: Red Sorghum
Saturday, May 18, 2019 / 2:00 PM - 4:45 PM (PDT)
Screening Format: SONY 4K DIGITAL PROJECTION (92 Minutes)
With Michael Berry (Asian Languages and Cultures, UCLA)
Director: Zhang Yimou


Starring: Gong Li, Jiang Wen
Directed by celebrated Chinese auteur Zhang Yimou (Raise the Red Lantern, Hero) and based on Nobel Prize-winning author Mo Yan's novel, Red Sorghum is a landmark in contemporary Chinese cinema and culture. The film blends the stories of three generations of a family with their region's journey through feudalism, war, and revolution. After several years as a cinematographer, Zhang Yimou chose Mo Yan's novel for his directorial debut. In the film, he crafts an evocative rural landscape, and lead actors Gong Li (in her debut) and Jiang Wen bring the story's vivid, complicated characters to breathtaking life. Red Sorghum (1987) was the recipient of the Golden Bear Award at the 1988 Berlinale.
Michael Berry (Asian Languages and Cultures, UCLA) joined Wesley Jacks (Film and Media Studies, UCSB) for a post-screening discussion.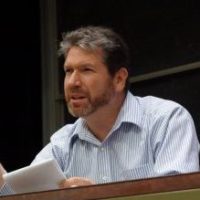 Michael Berry (Asian Languages and Cultures, UCLA)

Michael Berry is Professor of Contemporary Chinese Cultural Studies at UCLA. His areas of research include modern and contemporary Chinese literature, Chinese cinema, popular culture in modern China, and literary translation. He is the author of A History of Pain: Trauma in Modern Chinese Literature and Film, which explores literary and cinematic representations of atrocity in twentieth-century China and Speaking in Images: Interviews with Contemporary Chinese Filmmakers, a collection of dialogues with contemporary Chinese filmmakers including Hou Hsiao-hsien, Zhang Yimou, and Stanley Kwan, Jia Zhangke's Hometown Trilogy and Boiling the Sea: Hou Hsiao-hsien's Memories of Shadows and Light. Forthcoming books include The Path of Shadow and Light: Jia Zhangke on Cinema and an edited collection on the 1930 Musha Incident in Taiwan. At present, he is completing a monograph that explores the United States as it has been imagined through Chinese film, literature, and popular culture from 1949 to the present. Also an active literary translator, Berry has translated important contemporary Chinese novels by Yu Hua, Ye Zhaoyan, and Chang Ta-chun. In 2016, his translation of To Live was selected for the NEA's "The Big Read" program, and his 2017 translation of Wu He's Remains of Life was met with widespread acclaim.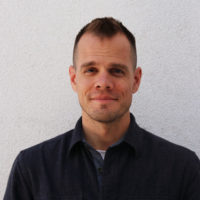 Moderator Wesley Jacks
Wesley Jacks is a PhD candidate working in the fields of Chinese film history and media industries studies. His dissertation focuses on the contemporary distribution of imported films in the People's Republic of China. At UCSB, he has been a member of the Media Fields Collective, a contributing researcher on the Connected Viewing Initiative, and a programmer/researcher at the Carsey-Wolf Center. He has presented his research at Peking University, Nanyang Technological University, SCMS, and Warner Brothers Studios. His essay on Sino-Japanese film connections from the mid-70s to the early-90s is forthcoming in the Journal of Chinese Cinemas and he co-authored a chapter in Film Marketing into the Twenty-First Century (2015). His research interests include distribution studies, media policy, film aesthetics, and piracy.
 This event is sponsored by the Carsey-Wolf Center and the Department of Film and Media Studies.
New Waves
The Carsey-Wolf Center's spring 2019 screening series will explore the international legacies of cinematic New Waves. Starting in Italy with Rome, Open City (1945), our series will include films from France, Cuba, China, and Iran. These selections highlight the New Waves' stylistic and narrative experimentation, self-conscious rejection of inherited film conventions, and exploration of contemporary social and political issues. These films capture cinema at its most vital, responding to youth cultures, changing urban landscapes, and the destructive forces of globalization and war.
CWC Global
Media are global by nature; they express culture just as much as they transcend borders. The CWC Global series is dedicated to showcasing media from around the world. This series features screenings and events that place UCSB in conversation with international media makers and global contexts across our deeply connected world.