Outlander
Thursday, October 22, 2015 / 7:00 PM (PDT)
Screening Format: Blu-Ray (59 Minutes)
With Toni Graphia (Executive Producer/Screenwriter)
Director: Mike Barker


Starring: Caitriona Balfe, Sam Heughan, Lotte Verbeek, Bill Paterson
Smartly written and lushly shot, Outlander follows the journeys of a British Army nurse who, while on a second honeymoon in Scotland after World War II, finds herself transported to 1743, where her personal and political loyalties are tested amid the Jacobite uprising. Concerning Outlander's distinctive qualities, The New Yorker critic Emily Nussbaum writes, "The female perspective is a welcome change, particularly in a cable landscape that finds every possible excuse for a middle-aged male detective to interrogate a teen-age stripper in her dressing room. But the show is more than tit for tat: It's sheer pleasure, no guilt allowed."
The Pollock Theater and CWC TV was proud to present a very special screening of the Starz series Outlander, Episode "The Devil's Mark," followed by a Q&A with UCSB alum and Executive Producer/Writer Toni Graphia. The Q&A was moderated by Constance Penley, (Film and Media Studies, UCSB).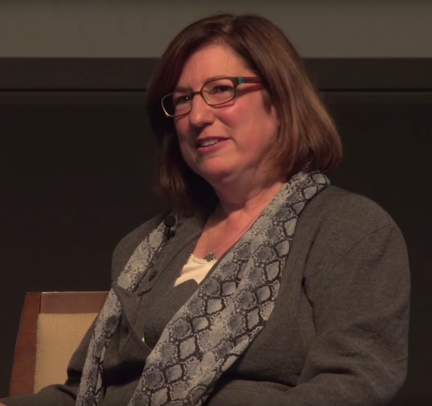 Executive Producer/Writer Toni Graphia

After graduating from UCSB, Toni Graphia launched her professional career as a writer on a wide range of primetime network television shows, including China Beach, Quantum Leap, Cop Rock, Melrose Place, Life Goes On, Dr. Quinn Medicine Woman, and Roswell. Her original dramatic series, Orleans, inspired by her own family in Louisiana, had a run on CBS in 1996. In recent years she has worked extensively as a producer and writer on major cable television series, including Carnivale, Battlestar Galactica, Terminator: The Sarah Connor Chronicles, and now Outlander. Graphia was nominated for a Writer's Guild Award in 1993 and received a prestigious George Foster Peabody Award for her work on Battlestar Galactica in 2006. She has also taught writing at USC, UCLA, UCSB, and Emerson College, and lectured at Glasgow Caledonian University in the U.K.

Moderator Constance Penley
Constance Penley is Professor of Film and Media Studies and Founding Director and Co-Director Emeritus of the Carsey-Wolf Center at the University of California, Santa Barbara. She received her Ph.D. from the University of California, Berkeley, and studied at the Ecole des Hautes Etudes en Sciences Sociales. Her major areas of research interest are film history and theory, feminist theory, cultural studies, contemporary art, and science and technology studies. She is a founding editor of Camera Obscura: Feminism, Media, Cultural Studies and editor or co-editor of the influential collections Feminism and Film Theory, Male Trouble, Technoculture, The Visible Woman: Imaging Technologies, Science and Gender, and The Feminist Porn Book: The Politics of Producing Pleasure (with Tristan Taormino, Mireille Miller-Young, and Celine Parreñas Shimizu). Her books include The Future of an Illusion: Film, Feminism, and Psychoanalysis, NASA/TREK: Popular Science and Sex in America, and the forthcoming Teaching Pornography. She is co-producer of Porn 101 with Katie Morganfor HBO Documentaries. Her collaborative art projects are "MELROSE SPACE: Primetime Art by the GALA Committee" and "Biospheria: An Environmental Opera," on which she was co-librettist. Penley is a recipient of the MacArthur Foundation Digital Media and Learning Award and the Kenneth Burke Society Prize in Rhetorical Criticism.
This event is sponsored by the Carsey-Wolf Center, the Department of Film & Media Studies, the Carsey-Wolf Center, the Scott Frank Fund for Screenwriting, and the Rick Rosen Fund for Television Studies.
CWC TV
In recognition of the extraordinary accomplishments of the Center's namesakes, Dick Wolf and Marcy Carsey, the Carsey-Wolf Center is committed to examining television as an institution, industry, and cultural form. In our post-network, multi-channel, multi-media environment, understanding television demands understanding its past as well as its future, through exploration of individual episodes, mini-series, and documentaries.