Othello in the Seraglio: The Tragedy of Sümbül the Black Eunuch
Thursday, February 27, 2020 / 7:00 PM - 10:00 PM (PST)
Screening Format: High-resolution Quicktime (105 Minutes)
With Mehmet Ali Sanlıkol (composer)
Script by Robert Labaree

Othello in the Seraglio: The Tragedy of Sümbül the Black Eunuch, a uniquely powerful "coffeehouse opera," retells the age-old story of passionate love and murderous jealousy, of a black slave in the seventeenth-century Ottoman court who rises to power and riches, only to come to a tragic end. The multi-layered script was adapted from Shakespeare's Othello and its source texts, and written by music historian Robert Labaree. The score, by Grammy-nominated composer Mehmet Ali Sanlıkol, is a stunning tapestry woven of Italian Baroque and Turkish sections alongside Sanlıkol's own newly-composed music. Othello is performed on traditional European and Turkish instruments by an ensemble of twelve musicians, singers, and a dramatic storyteller.
This event featured a high-definition cinematic restaging of the opera. Composer Mehmet Ali Sanlıkol joined moderator Abdulhamit Arvas (Theater and Dance, UCSB) for a post-screening discussion. This event is presented in conjunction with the Early Modern Center conference "Queer Crossings, Unruly Locales 1500-1800."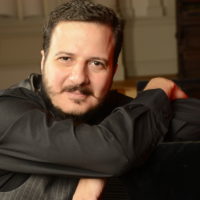 Composer Mehmet Ali Sanlıkol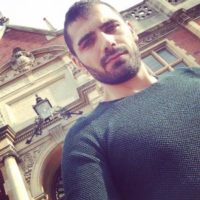 Moderator Abdulhamit Arvas
Abdulhamit Arvas is Assistant Professor of Theater at UCSB. Trained in the field of early modern literature and culture, Arvas specializes in the global Renaissance, Shakespeare, dramatic literature, the history of sexuality, queer theory, and race studies. His current book project, tentatively titled Beautiful Boys of the Renaissance: Travelling Sexualities and Homoerotics of Difference in Anglo-Ottoman Encounters, 1500-1650, explores early modern English and Ottoman sexualities on and off stage with a focus on cross-cultural encounters, abductions, and conversions in the Mediterranean during the sixteenth and early seventeenth centuries. His most recent publications include "Global Shakespeares, Affective Histories, Cultural Memories" (co-authored, Shakespeare Survey), "Queers In-Between: Globalizing Sexualities, Local Resistances" (The Postcolonial World), "From The Pervert Back to The Beloved: Homosexuality and Ottoman Literary History, 1453-1923" (The Cambridge History of Gay and Lesbian Literature), and "Ecoerotic Imaginations in Early Modernity: An Eco-Queer Reading of Margaret Cavendish" (New International Voices in Ecocriticism), as well as book reviews for Renaissance Quarterly, Journal of American Studies in Turkey, and GLQ: A Journal of Lesbian and Gay Studies. He is the recipient of a Fulbright scholarship, an Andrew W. Mellon Postdoctoral Fellowship, the SSHRC Early Modern Conversions Fellowship at the University of Cambridge, and the Folger Shakespeare Library Research Fellowship.
 This event is sponsored by the Carsey-Wolf Center, the Department of Theater and Dance, and the UCSB Early Modern Center.

CWC Global
Media are global by nature; they express culture just as much as they transcend borders. The CWC Global series is dedicated to showcasing media from around the world. This series features screenings and events that place UCSB in conversation with international media makers and global contexts across our deeply connected world.