The Cinema of Multispecies Encounters
Thursday, January 26, 2023 / 7:00 PM - 9:30 PM (PST)
Screening Format: 2K digital projection (87 minutes)
In his essay "Why Look at Animals?," John Berger argues that with the advent of industrialization in the nineteenth century, images of non-human animals began to proliferate in popular culture, multiplying across media at the very moment that flesh-and-blood animals largely withdrew from our daily lives. Ever since, the animal has often been presented as an object to be observed; it amazes and entertains with its majestic power and exotic otherness. Cinema has long struggled to shake these representational habits, but it nonetheless holds the possibility of constructing alternative understandings of the complex entanglements between human and non-human animals. The films presented here offer a range of perspectives on multispecies co-existence and co-dependency. They raise difficult questions about how bodies come together through very different forms of relationality, including both control and care.
Kim Knowles (Aberystwyth University) and Carrie Noland (UC Irvine) joined Peter Bloom (Film and Media Studies, UCSB) for a discussion of three short experimental films:
Blua, Carolina Charry Quintero, 2015
Laborat, Guillaume Cailleau, 2014
The Masked Monkeys, Anja Dornieden & Juan David Gonzales Monroy, 2015
image: still from Blua, 2015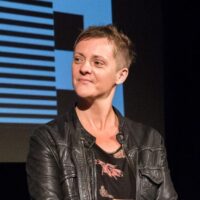 Kim Knowles (Aberystwyth University)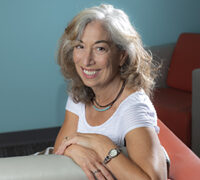 Carrie Noland (UC Irvine)
Carrie Noland is Professor of French and Comparative Literature at the University of California, Irvine.  She is the author of four books:  Poetry at Stake: Lyric Aesthetics and the Challenge of Technology; Agency and Embodiment; Voices of Negritude in Modernist Print; and Merce Cunningham: After the Arbitrary.  In collaboration with the anthropologist Sally Ann Ness, she has co-edited Migrations of Gesture ; with the poet Barrett Watten Diasporic Avant-Gardes; and with Tyrus Miller Jackson Mac Low: Between Writing and Performance. Noland studies the interplay between technology and artistic creation from a variety of angles, moving from performance poetry to dance, from subjectivation to racialization.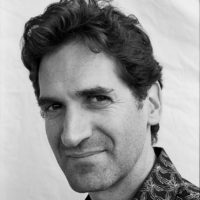 Moderator Peter Bloom
Peter J. Bloom is Professor and Chair in the Department of Film and Media Studies at UC Santa Barbara. His recent work has focused on film and radio in late colonial Ghana and Malaya. He has published extensively on British, French, and Belgian colonial media including French Colonial Documentary (University of Minnesota Press, 2007), Frenchness and the African Diaspora (co-editor, Indiana UP, 2009), and Modernization as Spectacle in Africa (co-editor, Indiana UP, 2014). His current project, entitled Onomatopoeia and Empire, addresses the unifying context for radio-cinema modernity by reference to Counterinsurgency and Pan-Africanism.
 This event is sponsored by the Carsey-Wolf Center and the UC Irvine Department of European Languages & Studies.