In the Last Days of the City
Wednesday, October 3, 2018 / 7:00 PM - 10:00 PM (PDT)
Screening Format: DCP (118 minutes)
With Tamer El Said (Director)
Starring: Khalid Abdalla, Laila Samy, Hanan Youssef

In Tamer El Said's In the Last Days of the City (2016), Khalid Abdalla plays a filmmaker from downtown Cairo who struggles to capture the soul of a city on edge while the world changes around him—from personal love and loss to the fall of the Mubarak regime. Friends send him footage and stories from Berlin, Baghdad, and Beirut, creating a powerful, multilayered meditation on togetherness, the tactile hold of cities, and the meaning of homeland. Shot in the two years before the outbreak of revolution in Egypt, the film is director Tamer El Said's feature debut.
Director Tamer El Said joined Laila Shereen Sakr (Film and Media Studies, UCSB) for a post-screening discussion.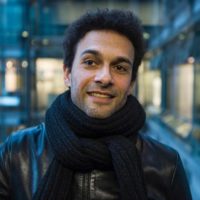 Director Tamer El Said
Tamer El Said is a filmmaker based in Berlin and Cairo. He was born in Cairo in 1972, and studied filmmaking and journalism at the High Institute of Cinema. El Said has been a senior producer for Nile Productions and for Hot Spot Films in Dubai.  During his tenure with Hot Spot Films, the company expanded dramatically, producing 250 documentaries in 58 countries, and winning several international awards. In 2007, El Said founded Zero Production in order to produce independent films. He is also a founder of Cimatheque Alternative Film Centre in Egypt, a multipurpose space that provides facilities, training and programing for the independent filmmaking community. El Said has taught filmmaking at the High Cinema Institute and has run mentoring workshops in many international film and art spaces, including the Institute of Contemporary Art (ICA) in London, the School of the Art Institute in Chicago (SAIC) and Silent Green in Berlin.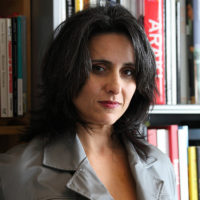 Moderator Laila Shereen Sakr
Laila Shereen Sakr is Assistant Professor of Film and Media Studies and Faculty Affiliate in the Feminist Studies Department at University of California, Santa Barbara. At UCSB, she has co-founded Wireframe, a new digital media studio that supports critical game design, data visualization, VR/augmented realities, digital arts and activism. She is known as the creator of the data-body, VJ Um Amel, and the R-Shief software system. Her creative research uses computer analytics, visualization, and immersive worldbuilding techniques to map how participation in social media has influenced the formation of a virtual body politic. Shereen Sakr has shown in solo and group exhibitions and performances at galleries and museums including the San Francisco MoMA, National Gallery of Art in Jordan, Camera Austria, Cultura Digital in Brazil, DC Fridge Art Gallery, 100 Copies in Egypt, among other venues. She is co-editor of the open access journal Media Theory, and also of After Video published by Open Humanities Press.   http://vjumamel.com
 This event is sponsored by the Carsey-Wolf Center.
CWC Global
Media are global by nature; they express culture just as much as they transcend borders. The CWC Global series is dedicated to showcasing media from around the world. This series features screenings and events that place UCSB in conversation with international media makers and global contexts across our deeply connected world.