Digital Image as Material Object: Archaeologies of Computer Graphics
Wednesday, November 10, 2021 / 3:30 PM - 5:00 PM (PST)
With Jacob Gaboury (Film & Media, UC Berkeley)
Annenberg Conference Room (4315 Social Science and Media Studies Building)

The computer is not a visual medium. And yet computation as we know it today has been fundamentally shaped by computer graphics. It was the desire to make computation legible and accessible to human users that drove researchers to develop systems for graphical human-machine communication, and while visual representation is in no way essential to the theory of computing or the practice of procedural calculation, computer graphics played a significant role in the development of the computer as a technical medium, and for shaping our modern understanding of what computers are for and can do. This talk engages this seventy year history, arguing that computer graphics mark a transformation in the very notion of what computing is through the imposition of a formal logic tied to a theory of the world as a structure of visible, interactive objects.
The Carsey-Wolf Center is proud to cosponsor this colloquium event in support of Jacob Gaboury's visit to UCSB and his book Image Objects: An Archaeology of Computer Graphics. Please note that pre-registration is not required to attend this colloquium. This event will be held in-person at the Annenberg Conference Room (4315 Social Science and Media Studies Building, UC Santa Barbara, California 93106). For more information, please visit this page.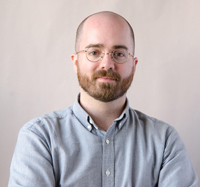 Jacob Gaboury (Film & Media, UC Berkeley)
Jacob Gaboury is an Associate Professor of Film & Media at the University of California, Berkeley. His work engages the history and theory of digital media, with a focus on digital image technologies alongside queer and feminist approaches to science and technology. He has previously held fellowships from the Max Planck Institute for the History of Science, the International Research Institute for Cultural Techniques and Media Philosophy (IKKM), the Charles Babbage Institute, the Institute of Electrical and Electronics Engineers (IEEE), the Association of Computing Machinery (ACM), the Smithsonian Institute's National Museum of American History, the Institute for Advanced Study in Media Cultures of Computer Simulation (MECS), and the Social Science Research Council. His work has appeared in a range of publications, including Grey Room, Women & Performance, the Journal of Visual Culture, Camera Obscura, Debates in the Digital Humanities, Rhizome, continent., and Art Papers. Gaboury holds a PhD in Media, Culture, and Communication and an MA in Cinema Studies from New York University.
This colloquium is cosponsored by the Carsey-Wolf Center, alongside Wireframe media studio, the Department of Film and Media Studies, the Transcriptions Center (Department of English), and the "Machines, People & Politics" Interdisciplinary Humanities Center Research Focus Group.