Whale Rider
Monday, August 14, 2023 / 7:00 PM - 9:50 PM (PDT)
Screening Format: Sony 4K digital projection (101 minutes)
With Witi Ihimaera (author of The Whale Rider)
Director: Niki Caro

Written and directed by Niki Caro and based on the 1987 novel The Whale Rider by Witi Ihimaera,  the 2002 film Whale Rider follows Kahu Paikea Apirana (Keisha Castle-Hughes), a twelve-year-old Māori girl who dreams of becoming the chief of her tribe against the wishes of her grandfather, who believes the role should be reserved for boys. Critically acclaimed upon its release, Whale Rider introduced the world to Castle-Hughes, who in 2013 became the youngest performer to ever be nominated for an Academy Award for Best Actress.
In this special event, novelist Witi Ihimaera joined moderator Nicola Daly (Education, University of Waikato) for a post-screening discussion of this iconic film.
This event was presented in conjunction with the conference Ecologies of Childhood, the 26th biennial Congress of the International Research Society for Children's Literature (IRSCL), convened by Sara Pankenier Weld (Germanic and Slavic Studies, UCSB).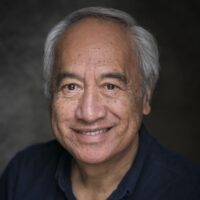 Witi Ihimaera (author of The Whale Rider)
Witi Ihimaera became New Zealand's first Māori novelist fifty years ago with Tangi, published in 1973. Since then, Ihimaera has become one of the world's leading Indigenous writers, with four of his novels adapted into feature films. Among them is The Whale Rider, first published in 1989 and released as a feature film in 2002 to global acclaim. Acknowledged as a mentor of younger New Zealand writers, playwrights, editors, and filmmakers, his titles include The Matriarch (1986), Bulibasha (1994), The Uncle's Story (2000, currently in feature film development), Sleeps Standing (2017, currently in feature film development), two memoirs, and a non-fiction history of Māori mythology. He is a multi-award winner in his own country and internationally, and the holder of a Premio Ostana (2010) and a Chevalier Des Arts et Lettres (2017). He lives in Auckland.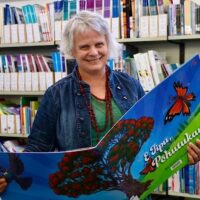 Moderator Nicola Daly (Education, University of Waikato)
An Associate Professor in Te Kura Toi Tangata, Division of Education, Dr. Nicola Daly is a sociolinguist interested in the language hierarchies present in children's literature. She is also interested in the pedagogical potential of picturebooks for social justice in educational contexts from early childhood settings through to tertiary contexts. She teaches courses in children's literature and supervises Masters and PhD students in children's literature and language-related topics. The main focus of her research is in the language used in children's picturebooks. Her research has examined the use of Māori loanwords in New Zealand English picturebooks, and more recently has been analyzing the linguistic landscape of dual language picturebooks. She also has explored the link between national identity and children's literature.
This event is sponsored by the Carsey-Wolf Center, the 2023 IRSCL Congress
"Ecologies of Childhood," UCSB Summer Sessions, the Department of Film and Media Studies, the Interdisciplinary Humanities Center, the Literature and the Environment research center, and the UCSB Office of Diversity, Equity, and Inclusion.
CWC Global
Media are global by nature; they express culture just as much as they transcend borders. The CWC Global series is dedicated to showcasing media from around the world. This series features screenings and events that place UCSB in conversation with international media makers and global contexts across our deeply connected world.