Borders: John Ware Reclaimed
Thursday, May 13, 2021 / 4:00 PM - 5:00 PM (PDT)
With director Cheryl Foggo
Is it possible to love someone who died before you were born? Cheryl Foggo believes so. John Ware Reclaimed (2020) follows filmmaker Foggo on her quest to uncover the complex story of John Ware, a Black cowboy and rancher who settled in Alberta prior to the turn of the Twentieth Century. As she endeavors to dig past the racist myths and mistellings surrounding Ware, she recalls her childhood in Calgary, Alberta, her own experiences of racism, and her family's history as part of the 1910 migration to western Canada to escape violence in the southern United States. She also evokes the suppressed history of a thriving Black presence in the Prairies: the Black pioneers who lived, worked, and raised families in the west. Foggo's archival, genealogical, and archaeological search, and her creative reimagining of John Ware's life, reveal who this iconic figure might have been, and what his legacy means.
Director Cheryl Foggo joined moderator Stephanie Batiste (UCSB) for a discussion of John Ware Reclaimed.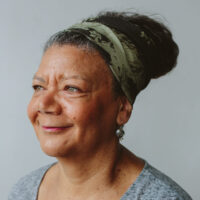 Director Cheryl Foggo
Cheryl Foggo is a multiple award-winning playwright, author and filmmaker, whose work over the last 30 years has focused on the lives of Western Canadians of African descent. In 2020 the world premiere of her NFB feature documentary John Ware Reclaimed took place at the Calgary International Film Festival, where it received the Alberta Feature Audience Choice Award. The film is now screening at festivals across Canada and on nfb.ca. Additionally in 2020, the thirtieth anniversary edition of her book Pourin' Down Rain: A Black Woman Claims Her Place in the Canadian West was released by Brush Education Press and was also launched as an audiobook read by acclaimed actor Karen Robinson through ECW Press. Cheryl is the 2021 recipient of the Calgary Black Chambers Black Achievement Award in Arts, Media and Entertainment and her short film Kicking Up a Fuss: The Charles Daniels Story, which received its Festival Launch in 2020 at CIFF, was an Alberta Motion Picture Industry Awards finalist in 2020. Her play John Ware Reimagined won the 2015 Writers Guild of Alberta Award for Drama and was produced most recently at Workshop West Theatre Company in 2017. She is a past recipient of the Sondra Kelly Screenplay Award from the Writers Guild of Canada. Her short play The Sender, part of Obsidian Theatre Company's 21 Black Futures is now available on CBC Gem, and a production of her play Heaven will be seen at the Citadel Theatre in spring 2021.  (photo credit: Mike Tan)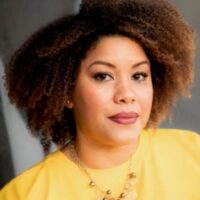 Moderator Stephanie Batiste
Stephanie Leigh Batiste is an Associate Professor of Black Studies and English at UCSB, where she is also Affiliate Professor in the Departments of Theater and Dance and Comparative Literature. She currently serves as the Director of the Hemispheric South/s Research Initiative, and is co-editor of the NYU Press Book Series Performance and American Culture. Batiste's research areas include Race and Racism, Performance Studies, African American Literature and Culture, American Studies, Cultural Studies, and U.S. History. Her interdisciplinary work has appeared in Text & Performance Quarterly, The Black Scholar, The New Centennial Review, International Journal of Screen Dance, The Journal of Haitian Studies as well as multiple collections and anthologies. Her first book, Darkening Mirrors: Imperial Representation in Depression Era African American Performance won the MLA William Sanders Scarborough Prize and honorable mention for the Association for Theater in Higher Education Book Award. Currently, she is finishing her latest book project tentatively titled Metaphysics of Resurrection: Black Performances of Violence and Death in Millennial Los Angeles. Batiste is a poet, performer, and playwright. Her poems have been published in The Current and Foundry. Her solo show Stacks of Obits and plays Blue Gold & Butterflies, and Young Love Found & Lost: 6 poems in a circle have been performed nationally and internationally. 
This event is sponsored by the Carsey-Wolf Center.
CWC Presents: Borders
Borders are at once physical and imaginary, embedded on the ground, imposed upon populations, and played out across the sea. The Carsey-Wolf Center's spring 2021 public programming series explores borders, borderlands, and frontiers as they are cinematically, politically, technologically, and archivally mediated. The series engages with a range of borders: the US-Mexico border, an ICE detention center in Florida, the aqueous borders across which migrants journey to Europe, and the changeable border that separates India and Bangladesh. The series interrogates different geographical terrains and forms of crossing and detainment in an effort to encourage viewers to embark on an intellectual journey of their own. Through films and media strategies that themselves traverse the boundaries between narrative and documentary, this series explores the messy, evolutionary character of all borders, approaching them as places—both embodied and discursive—where new social relations are worked out, and where emerging struggles become legible.
CWC Global
Media are global by nature; they express culture just as much as they transcend borders. The CWC Global series is dedicated to showcasing media from around the world. This series features screenings and events that place UCSB in conversation with international media makers and global contexts across our deeply connected world.