Big Screen: What Ever Happened to Baby Jane?
Tuesday, May 2, 2023 / 7:00 PM - 10:00 PM (PDT)
Screening Format: Sony 4K digital projection (132 minutes)
With Lucy Fischer (University of Pittsburgh)
Director: Robert Aldrich


Starring: Bette Davis and Joan Crawford
Adapted from the 1960 novel by Henry Farrell, Robert Aldrich's What Ever Happened to Baby Jane? is a fever-pitched melodrama that centers on feuding sisters Jane (Bette Davis) and Blanche (Joan Crawford). Jane, a former child actress, has become a bitter alcoholic after spending her whole life in the shadow of her more successful movie-star sister, Blanche. When a terrible accident leaves Blanche bedridden, the blame falls on Jane. Both women's careers grind to a halt and the pair end up living as recluses in an isolated Hollywood mansion, their egos clashing in a storm of envy, resentment, codependence, and revenge. Set against the real-world drama of Davis and Crawford's much-publicized professional and personal rivalry (recently dramatized in the miniseries Feud: Bette and Joan), the film reignited both of their careers. Today, it remains a cult classic and macabre masterpiece of Hollywood cinema.
Lucy Fischer (University of Pittsburgh) joined moderator Patrice Petro (Dick Wolf Director of the Carsey-Wolf Center) for a post-screening discussion of What Ever Happened to Baby Jane?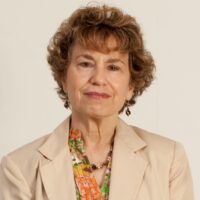 Lucy Fischer (English and Film Studies, University of Pittsburgh)
Lucy Fischer is a Distinguished Professor Emeritus of English and Film Studies at the University of Pittsburgh where she directed the Film Studies Program for thirty years. She is the author of fifteen books: Jacques Tati (1983), Shot/Countershot: Film Tradition and Women's Cinema (1989), Imitation of Life (1991), Cinematernity: Film, Motherhood, Genre (1996), Sunrise (1998), Designing Women: Art Deco, Cinema and the Female Form (2003), Stars: The Film Reader (2004), American Cinema of the 1920s: Themes and Variations (2009), Teaching Film (co-edited with Patrice Petro/2012), Body Double: The Author Incarnate in the Cinema (2013), Art Direction and Production Design (2015), Cinema by Design: Art Nouveau, Modernism, and Film History (2017), Cinemagritte: René Magritte Within the Frame of Film History, Theory and Practice (2019), Emotion Pictures: Cinema and Feelings (2023), and Recollecting Collecting: Film and Media Studies Perspectives (2023). She has held curatorial positions at The Museum of Modern Art (New York City) and The Carnegie Museum of Art (Pittsburgh), and has been the recipient of both a National Endowment for the Arts Art Critics Fellowship and a National Endowment for the Humanities Fellowship for University Professors. She has served as President of the Society for Cinema and Media Studies (2001-3) and in 2008 received its Distinguished Service Award. In 2016, she received the Chancellor's Research Award for Senior Scholars and in 2017 the Provost's Award for Excellence in Mentoring at the University of Pittsburgh.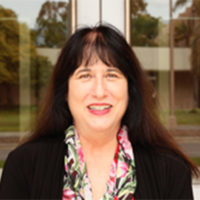 Moderator Patrice Petro (Dick Wolf Director of the Carsey-Wolf Center)
Patrice Petro is Professor of Film and Media Studies, Dick Wolf Director of the Carsey-Wolf Center, and Presidential Chair in Media Studies. She is the author, editor, and co-editor of fourteen books, including Uncanny Histories in Film and Media Studies (2022), The Routledge Companion to Cinema and Gender (with Kristin Hole, Dijana Jelaca, and E. Ann Kaplan, 2017), Teaching Film (2012), Idols of Modernity: Movie Stars of the 1920s (2010), Rethinking Global Security: Media, Popular Culture, and the "War on Terror" (2006), and Aftershocks of the New: Feminism and Film History (2002). She served two terms as President of the Society for Cinema and Media Studies, the largest U.S. professional organization for college and university educators, filmmakers, historians, critics, scholars, and others devoted to the study of the moving image.
This event is sponsored by the Carsey-Wolf Center.
CWC Presents: Big Screen
The movie theater has always been a space of wonder and anxiety. Since the inception of the cinema, audiences have enjoyed the collective experience of viewing a film on the big screen, but fears of contagion and disease have undercut that pleasure since the cinema's earliest years. In our current moment, closures of international festivals and competition with streaming platforms have significantly altered the film industry. The Carsey-Wolf Center's "Big Screen" series at the Pollock Theater will explore this tension as we welcome cinemagoers back to the theater. The series will spotlight films made to be seen on the big screen, including works that are rarely seen in North America and classical Hollywood films. This series will recall those early cinemagoers who first marveled at early moving pictures or new technologies like Cinerama and CinemaScope, and invite conversations with scholars and filmmakers about their varied, personal, and unexpected experiences with the big screen.
CWC Classics
The CWC Classics program celebrates cinema's rich history, bringing classic films back to the big screen for critical viewing and discussion. These events feature filmmakers, academics, and professionals who can contextualize the production and historical impact of the films. The series occasionally presents classic films in their original 16 or 35 mm formats. CWC Classics events celebrate the history and significance of cinema's enduring legacy.