Big Screen: TÁR
Saturday, June 3, 2023 / 2:00 PM - 5:45 PM (PDT)
Screening Format: 4K DCP (158 Minutes)
With Todd Field (Filmmaker)

Starring: Cate Blanchett, Nina Hoss, Noémie Merlant
Lydia Tár sits at the very summit of the world of classical music. As the first woman principal conductor of the Berlin Philharmonic, she holds one of the most coveted positions in a field still largely dominated by her male counterparts. TÁR (2022) delves into this rarified and cutthroat world, introducing its titular character as she undertakes final preparations for one of the great challenges of her career: completing a live recording of Gustav Mahler's Symphony No. 5.
But as rehearsals intensify, shadows of a troubled past and unexpected new temptations begin to emerge. Together, they chip away at Lydia's meticulously curated public persona, eventually revealing a uniquely monstrous villain and raising unsettling questions about exploitation, cultural authority, and the geopolitics of abuse.
In this event, director Todd Field joined moderator Tyler Morgenstern (Assistant Director, Carsey-Wolf Center) for a virtual post-screening discussion of TÁR. In addition to discussing the film, Field addressed the involvement of Xapiri Ground—a non-profit organization dedicated to grassroots work with the Indigenous people of the Amazon rainforest—and photographer David Díaz Gonzales, who created a key image for the film. Prior to the screening, some of Díaz's photography were exhibited in the lobby of the Pollock Theater.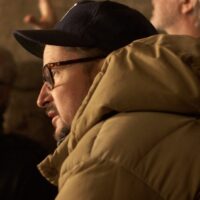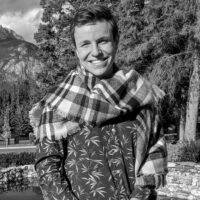 Moderator Tyler Morgenstern
Tyler Morgenstern is Assistant Director of the Carsey-Wolf Center and an alumnus of the UCSB Film and Media Studies PhD program. As a scholar, his research and teaching focused on the media and technological cultures of empire and settler colonialism. He completed his dissertation, Colonial Recursion and Decolonial Maneuver in the Cybernetic Diaspora in 2021, and has published in journals including International Journal of Communication, Media+Environment, and Synoptique. With Krista Lynes and Ian Alan Paul, he is also co-editor of Moving Images: Mediating Migration as Crisis (Transcript Verlag, 2020).
 This event is sponsored by the Carsey-Wolf Center.
Big Screen
The movie theater has always been a space of wonder and anxiety. Since the inception of the cinema, audiences have enjoyed the collective experience of viewing a film on the big screen, but fears of contagion and disease have undercut that pleasure since the cinema's earliest years. In our current moment, closures of international festivals and competition with streaming platforms have significantly altered the film industry. The Carsey-Wolf Center's "Big Screen" series at the Pollock Theater will explore this tension as we welcome cinemagoers back to the theater. The series will spotlight films made to be seen on the big screen, including works that are almost never seen in North America (Satyajit Ray), as well as classical Hollywood films (featuring Bette Davis) and more. This series will recall those early cinemagoers who first marveled at early moving pictures or new technologies like Cinerama and CinemaScope, and invite conversations with scholars and filmmakers about their varied, personal, and unexpected experiences with the big screen.