Big Screen: The Kingdom of Diamonds
Wednesday, October 12, 2022 / 7:00 PM - 9:45 PM (PDT)
Screening Format: 4K digital projection (1 hour, 58 minutes)
With Moinak Biswas, Supriya Chaudhuri, and Pinaki De
Starring: Tapen Chatterjee, Rabi Ghosh, Utpal Dutt, Soumitra Chatterjee


Director: Satyajit Ray
The Kingdom of Diamonds (Hirak Rajar Deshe) is Satyajit Ray's 1980 follow-up to his acclaimed musical comedy The Adventures of Goopy and Bagha. The film continues the fantasy adventures of Goopy Gyne and Bagha Byne as they travel to Hirak after receiving an invitation to the court of the Diamond King. They soon learn that the king is actually an evil tyrant who hoards wealth while his subjects starve. Anyone who protests becomes victim to a sinister brainwashing plot that rewrites their thoughts with mindless rhyming slogans. With their magical abilities, Goopy and Bagha join virtuous schoolteacher Udayan to put an end to the Diamond King's tyranny. Critics and audiences have celebrated the film's dystopian themes and political commentary alongside its lighthearted laughs and richly poetic screenplay.
Moinak Biswas (Film Studies, Jadavpur University), Supriya Chaudhuri (English, Jadavpur University), and graphic illustrator-designer Pinaki De joined moderator Bhaskar Sarkar (Film and Media Studies, UCSB) for a post-screening discussion of The Adventures of Goopy and Bagha and The Kingdom of Diamonds.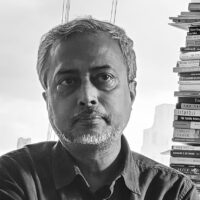 Moinak Biswas (Film Studies, Jadavpur University)
Moinak Biswas is Professor of Film Studies and Coordinator of The Media Lab at Jadavpur University, Kolkata. Among his publications are Apu and After: Revisiting Ray's Cinema (2005), Chaplin (1997, 2000) and Ujan gang baiya (1988, 2018). He edits the Journal of the Moving Image and Kolkata 21. He has written and co-directed the award-winning Bengali feature film Sthaniya sambaad (2010). His video installation Across the Burning Track was commissioned for the 11th Shanghai Biennale in 2016.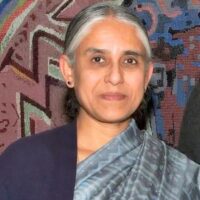 Supriya Chaudhuri (English, Jadavpur University)
Supriya Chaudhuri is Professor Emerita at Jadavpur University, India. Her research covers the European Renaissance, Indian cultural history, modernism, cinema, and theory. Recent publications include her edited volumes, Religion and the City in India (Routledge, 2022) and Commodities and Culture in the Colonial World (Routledge, 2018); and articles in Postcolonial Studies and Thesis 11. She engages publicly with issues concerning education, gender, and society in India.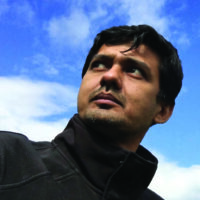 Graphic illustrator Pinaki De
Pinaki De is a graphic illustrator-designer who works for renowned publishers like Penguin Random House, Harper Collins, Pan Picador, Simon and Schuster, Hachette, Routledge, Oxford University Press, Bloomsbury, and many others. A member of The Society for the Preservation of Satyajit Ray Archives, he also designs the layout of books based on Ray's archival manuscripts published by the Society. Pinaki juggles his creative work with academics, as he has a day job as an Associate Professor of English at a college affiliated with the University of Calcutta.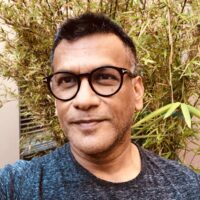 Bhaskar Sarkar (Film and Media Studies, UCSB)
Bhaskar Sarkar teaches in the Department of Film & Media Studies at UC Santa Barbara. His main research interests are Globalization and Media, Risk Media, the Global South, and Indian Cinema. He is currently working on two monographs, one on Bollywood and the other on media piracy.
CWC Global
Media are global by nature; they express culture just as much as they transcend borders. The CWC Global series is dedicated to showcasing media from around the world. This series features screenings and events that place UCSB in conversation with international media makers and global contexts across our deeply connected world.
CWC Presents: Big Screen
The movie theater has always been a space of wonder and anxiety. Since the inception of the cinema, audiences have enjoyed the collective experience of viewing a film on the big screen, but fears of contagion and disease have undercut that pleasure since the cinema's earliest years. In our current moment, closures of international festivals and competition with streaming platforms have significantly altered the film industry. The Carsey-Wolf Center's "Big Screen" series at the Pollock Theater will explore this tension as we welcome cinemagoers back to the theater. The series will spotlight films made to be seen on the big screen, including works that are almost never seen in North America (Satyajit Ray), as well as classical Hollywood films (featuring Bette Davis) and early slapstick comedy (Buster Keaton and more). This series will recall those early cinemagoers who first marveled at early moving pictures or new technologies like Cinerama and CinemaScope, and invite conversations with scholars and filmmakers about their varied, personal, and unexpected experiences with the big screen.