Big Screen: Gaslight
Tuesday, May 16, 2023 / 7:00 PM - 9:45 PM (PDT)
Screening Format: Sony 4K digital projection (114 minutes)
With Shelley Stamp (Film and Digital Media, UC Santa Cruz)
Director: George Cukor


Starring: Ingrid Bergman and Charles Boyer
In 2022, internet searches for the term 'gaslighting' spiked by nearly 2000 percent, prompting dictionary company Merriam-Webster to declare it Word of the Year. A form of psychological abuse wherein a victim is manipulated into doubting their own experiences, the now commonplace notion of gaslighting derives from George Cukor's classic 1944 drama, Gaslight.
The film follows newlywed Paula (Ingrid Bergman), who fears for her own sanity as her malicious husband Gregory (Charles Boyer) gradually manipulates her into believing that strange occurrences at home—including the dimming of the film's titular gaslights—are all simply figments of her imagination. Detective Brian Cameron (Joseph Cotten), investigating the unsolved murder of Paula's opera singer aunt, notices her anxious behavior and begins to suspect foul play. A masterful thriller suffused with dark, angular shadows and themes of psychic trauma, Gaslight anticipates the wave of noirish dramas that would sweep Hollywood in the post-WWII years.
Shelley Stamp (Film & Digital Media, UC Santa Cruz) joined moderator Kelsey Moore (Film and Media Studies, UCSB) for a post-screening discussion of Gaslight.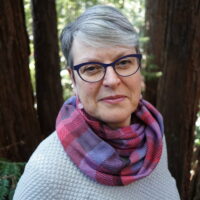 Shelley Stamp (Film & Digital Media, UC Santa Cruz)
Shelley Stamp is author of the award-winning books Lois Weber in Early Hollywood and Movie-Struck Girls, curator of the award-winning disc set Pioneers: First Women Filmmakers, and Founding Editor of the journal Feminist Media Histories. She currently edits the Feminist Media Histories book series at UC Press. Her research has been supported by grants from the National Endowment for the Humanities, the Academy of Motion Picture Arts and Sciences, and the UC President's Fellowship. She is Professor of Film & Digital Media at UC Santa Cruz, where she has twice won the Excellence in Teaching Award.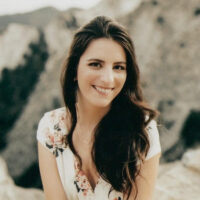 Moderator Kelsey Moore (Film and Media Studies, UCSB)
Kelsey Moore is a PhD candidate in Film and Media Studies at UC Santa Barbara. She received her master's degree in Cinema and Media Studies from the University of Southern California, and she previously worked for Women and Hollywood and the Sherman Grinberg Film Library. Her research interests include wartime Hollywood and newsreel studies, memory and intergenerational trauma, and archival theory and practice. Her dissertation considers the relationship between visual archives and digital practices of appraisal and preservation, and how these archival spheres contemporarily memorialize the Japanese American incarceration.
This event is sponsored by the Carsey-Wolf Center.
CWC Presents: Big Screen
The movie theater has always been a space of wonder and anxiety. Since the inception of the cinema, audiences have enjoyed the collective experience of viewing a film on the big screen, but fears of contagion and disease have undercut that pleasure since the cinema's earliest years. In our current moment, closures of international festivals and competition with streaming platforms have significantly altered the film industry. The Carsey-Wolf Center's "Big Screen" series at the Pollock Theater will explore this tension as we welcome cinemagoers back to the theater. The series will spotlight films made to be seen on the big screen, including works that are rarely seen in North America and classical Hollywood films. This series will recall those early cinemagoers who first marveled at early moving pictures or new technologies like Cinerama and CinemaScope, and invite conversations with scholars and filmmakers about their varied, personal, and unexpected experiences with the big screen.
CWC Classics
The CWC Classics program celebrates cinema's rich history, bringing classic films back to the big screen for critical viewing and discussion. These events feature filmmakers, academics, and professionals who can contextualize the production and historical impact of the films. The series occasionally presents classic films in their original 16 or 35 mm formats. CWC Classics events celebrate the history and significance of cinema's enduring legacy.