Script to Screen: Comic Con 2018
Thursday, July 19, 2018 / 9:00 AM - 2:00 PM (PDT)
Script to Screen, hosted by Matt Ryan, was invited to the 2018 Comic Con Convention.
The Man in the High Castle (Starts @ 00:11)
Isa Dick Hackett (Executive Producer)
Alexa Davalos (Actress)
Rufus Sewell (Actor)
Jason O'Mara (Actor)
Fantastic Beasts and Where to Find Them (Starts @ 07:35)
Dan Fogler (Actor)
A Quiet Place (Starts @ 13:43)
Erik Aadahl (Supervising Sound Editor)
Mr. Mercedes (Starts @ 18:20)
Jack Bender (Executive Producer/Director)
Justine Lupe (Actress)
A Discovery of Witches (Starts @ 30:48)
Deborah Harkness (Author/Executive Producer)
Hall of Fame Quarterback – New York Jets (Starts @ 36:48)
Joe Namath
A Series of Unfortunate Events (Starts @ 38:34)
Jim Dooley (Composer)
Sara Rue (Actress)
Riverdale (Starts @ 44:55)
Sherri Chung (Composer)
Mr. Robot (Starts @ 47:20)
Mac Quayle (Composer)
Dear White People (Starts @ 49:54)
Kris Bowers (Composer)
This Is Us (Starts @ 51:17)
Siddhartha Khosla (Composer)
Jon Huertas (Actor)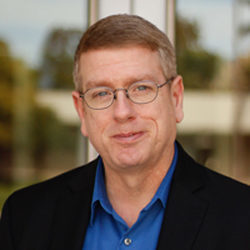 Matthew Ryan, Pollock Theater Director
Matthew Ryan has been the Pollock Theater Director since the theater opened in October 2010. He created and hosts the Script to Screen series, which has welcomed prestigious guests such as writer/director/producer Jordan Peele (Get Out), writer/director Damien Chazelle (Whiplash), screenwriters Emily V. Gordon and Kumail Nanjiani (The Big Sick), and writer/director/producer David Mandel, actor Tony Hale, and actress Julia Louis-Dreyfus (VEEP).
Ryan oversees the Pollock Theater Internship, which offers industry-level experience in live multi-camera television production and event planning. TV shows produced by students through this program have generated 15.1 million online views on the UCTV broadcast cable station.
UCSB Script to Screen is sponsored by the department of Film and Media Studies, The Carsey-Wolf Center, and The Scott Frank Fund for Screenwriting. It is hosted and executive-produced by the Pollock Theater Director, Matt Ryan, and produced by the Pollock Theater student staff.